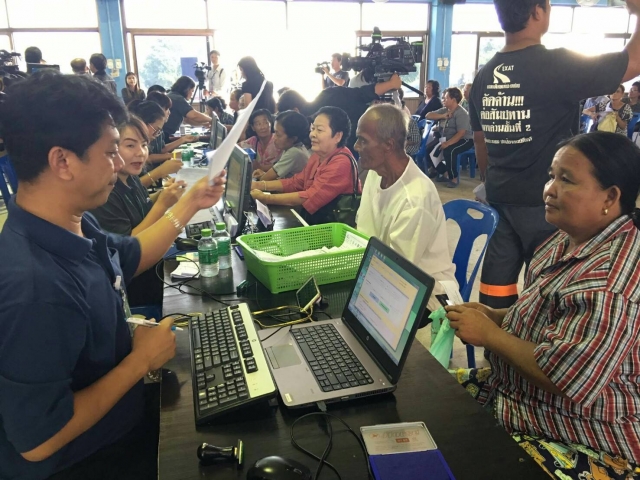 BANGKOK — A welfare card to be given to registered, low-income Thais in October will provide 2,750 baht each month to subsidize set living costs, the Finance Ministry said Tuesday.
Instead of distributing cash as was done in the first round of the junta's welfare program, this year will see cards provided to the 13 million eligible people who signed up. Permanent Secretary Somchai Sujjapongse said the money on the cards is already allocated for five uses: 1,000 baht for train tickets, 800 baht for interprovincial bus fares, 600 baht for Bangkok bus fares, 200 baht for electricity bills and 150 baht for water bills.
The cash limit will be renewed monthly and cannot be accrued from month to month. Cardholders can add money to their card if the balance is insufficient to cover an expense.
Read: Confusion Over Benefits as Poorest Thais Register for Junta Welfare
Somchai said his ministry will propose an initial 40 billion baht budget to the interim cabinet to run the program within two weeks.
The ministry was still considering other measures, such as a negative income tax, to help those who with less than 30,000 baht income annually, Somchai added.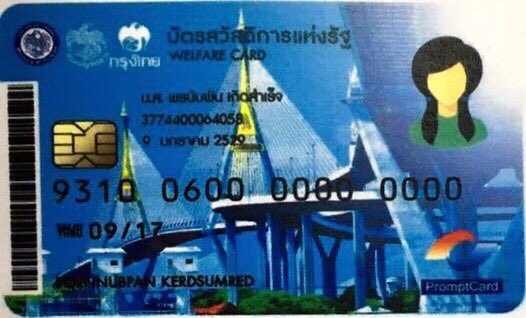 The beginning of October will also see the end to free bus service in Bangkok, as the government said it has been exploited by those with higher incomes.
They have yet to announce what would be compensated for many of the cardholders who live outside of Bangkok.
Somchai added that the government also plan to relieve their debt burdens by stepping in to help renegotiate private loans, offer training and provide better loan sources. He did not elaborate on the details.
The second round of the program targeting indigent Thais drew nearly twice the applicants, increasing from 8.3 million last year to 14 million for 2017.
To qualify, applicants had to possess not more than 100,000 baht – either in the bank or bonds. They must live in homes smaller than 100sqm or multi-family housing of less than 35sqm.
Landowners cannot possess more than 1 rai (1,600sqm) or property or 10 rai of farmland.
The Fiscal Policy Office said early this month 700,000 of them were found to be ineligible.
Related stories:
700,000 Ineligible for Junta Welfare Program
Confusion Over Benefits as Poorest Thais Register for Junta Welfare
Final Extension of Free Bus And Train Service?
Stricter Junta Welfare Program Unclear on Benefits