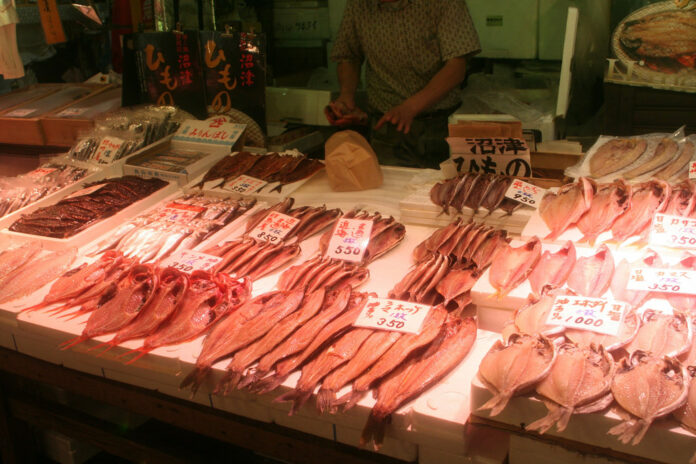 BANGKOK — Health and fishery officials said Tuesday a recent batch of fish imported from a Japanese coastal city struck by nuclear radiation leak seven years ago is perfectly safe for consumption.
The batch, about 100 kilograms of flounder and 10 kilograms of little mouth flounder, is allegedly the first exported from Fukushima since the 2011 earthquake and subsequent nuclear disaster. While an environmental activist raised alarm of possible contamination, officials said the fear is unfounded.
Fishery department deputy director Umaporn Pimolbutr said Thailand has been monitoring levels of contamination in fish caught off the coast of Fukushima since the 2011 earthquake, and has gradually decreased to near non existent level by 2015.
"In 2017, we coordinated with Japan and sampled 4,708 samples of fish," Umaporn said in an interview. "Only eight samples were found to be contaminated, and secondly, none of them is the type of fish we imported."
Nearly 16,000 people died when a powerful earthquake and tsunamis struck eastern Japan in 2011. The quake also triggered nuclear reactors at Fukushima to malfunction, causing a triple meltdown that leaked out hazardous radiation. The disaster led to fears of radioactive contamination in sea creatures caught off the coast of the Sendai region.
The Asahi Shimbun reported Thursday the city's fishing cooperative exported the flounder and little mouth flounder to 12 restaurants in Thailand, the first overseas sales since the earthquake. The newspaper quoted a local cooperative manager as saying the fish was safe to eat.
The Thai Food and Drug Administration, or FDA, also released a statement Tuesday saying the imported fish is safe for human consumption.
But environment and transparency activist Srisuwan Janya disputed the assertion. He said even if there's a possibility of less than 1 percent that imported fish were to be contaminated, it would cause cancer risks to consumers.
"This means eating Japanese fish is like buying a lottery. If it turns out you have the winning number, you're at risk of cancer," Srisuwan told reporters Tuesday.
He demanded that the fishery department reveal the names of 12 restaurants that imported the Fukushima fish. Srisuwan also said he may sue the agency in court if it's proven that the fish were contaminated.
Umaporn, the fishery official, said her agency does not know which restaurants got the fish because the foodstuff was immediately distributed to the stores after it passed a health inspection.
Marine life veterinarian Weerapong Laovetchprasit said concerns for health hazards in fish caught off Fukushima are valid, because humans are also affected by any residue left in the meat they eat. He added the danger is particularly high among "stationary" creatures such as clams.
However, he believes Thailand has adequate equipment to detect any radioactive substance.