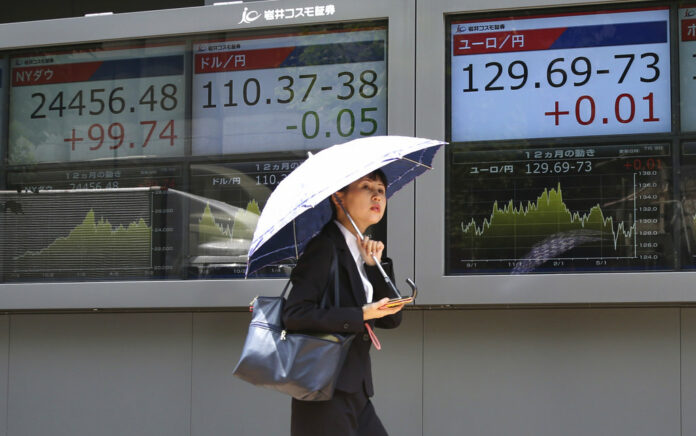 BEIJING — Asian stock prices sank Monday as Turkey's financial turmoil fueled fears contagion might spread to other emerging markets.
Keeping Score
The Shanghai Composite Index lost 1.7 percent to 2,746.90 and Tokyo's Nikkei 225 retreated 1.9 percent to 21,885.45. Hong Kong's Hang Seng shed 1.8 percent to 27,850.55 and Seoul's Kospi retreated 1.6 percent to 2,249.65. Sydney's S&P-ASX 200 declined 0.5 percent to 6,246.80. Benchmarks in New Zealand, Singapore, Bangkok and Kuala Lumpur also fell.
Wall Street
Stock prices slid as investors responded to Turkey jitters by settling equities and buying government bonds. The dollar strengthened while major exporters including technology, basic materials and industrial companies sank. The Standard & Poor's 500 index slide 0.7 percent to 2,833.28, ending a five-week winning streak. The Nasdaq composite broke an eight-day rising trend and sank 0.7 percent to 7,839.11.
Turkish Turmoil
Investors are uneasy over whether Turkey's government can cope with a plunging currency, a diplomatic spat with Washington and other problems. President Recep Tayyip Erdogan has accumulated more and more control over Turkey's financial system and central bank. U.S. President Donald Trump said Friday he will authorize higher tariffs on Turkish steel and aluminum. That came after Turkey put an American pastor on trial on spying charges. Erdogan promised Sunday his government will take unspecified "necessary actions" to calm markets.
Analyst's Take
"Turkey's financial crisis has taken center stage, displacing trade wars as the immediate concern," said Eugene Leow of DBS Group in a report. Worries are building that "this may lead to contagion" across emerging markets, said Leow. "We fail to see how the crisis can be resolved without external support," but an International Monetary Fund support package will be difficult "given Turkey's current political situation."
Energy
Benchmark U.S. crude fell 5 cents to USD$67.58 per barrel in electronic trading on the New York Mercantile Exchange. The contract closed at $67.63 on Friday. Brent crude lost 18 cents to $72.65 in London. It closed at $72.83 the previous session.
Currencies
The dollar declined to 110.24 yen from Friday's 110.93. The euro fell to $1.1385 from $1.1411.
Joe McDonald