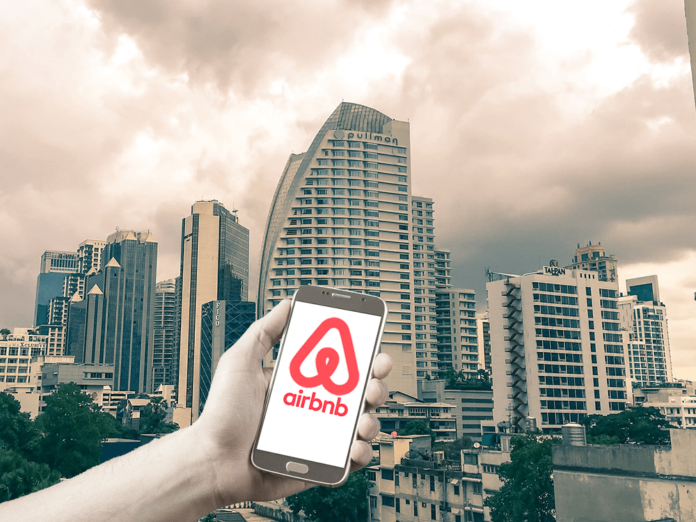 BANGKOK — Global room rental platform Airbnb announced an alliance Wednesday with a small hotels consortium.
Under the agreement signed today, hotels belonging to the Thai Boutique Accommodation Trade Association will be listed on Airbnb. It brings together two players in the lucrative hospitality industry seeking legal recognition in the face of an ongoing regulatory crackdown.
Airbnb representative Mike Orgill said the deal will raise visibility for hotels off the beaten path and promote local tourism, while the small hotels guild rep called on the military government to end its crackdown on unlicensed hotels.
"It will connect Thai hospitality with people around the world," Orgill said at a news conference held at a hotel in a Phra Khanong arts district.
Read: In a First, Govt Official Stands by Airbnb Legality
Apart from being listed on the world's best-known hospitality service, which says it served 1.6 million guests in Thailand in the past year, hotels in the trade association will also receive training and guidebooks from Airbnb on how to improve business, Orgill said.
Founded in 2016, the association represents over 50 "boutique hotels," small-scale accommodations that tout their unique character and neighborhood interactions.
Association vice president Staporn Sirisinha said he hopes the partnership will encourage more tourists to stay in boutique hotels, which offer more experience than big chain hotels located in well known tourism areas.
"Tourism is no longer about demand and supply," Sataporn said at the news conference. "It's about passion and new discoveries."
Such small independent hotels are being killed off by the military regime, Staporn complained, referring to a recent crackdown on small, unlicensed hotels and guesthouses in tourist hotspots including Chiang Mai, Phuket and Bangkok. Dozens have been closed down or threatened with closure as a consequence.
"This government is very confused with itself," Staporn said. "They are not illegal businesses. They want to register and get legalized, but the rules are not accommodating at all. These people just want to have honest careers and become a bedrock of local economy."
He cited personal experience in dealing with what he sees as unrealistic regulations. He once tried to turn an eight-room building into a guesthouse, but local officials refused to sign off on it because a corridor was less than 90 centimeters wide.
"Eighty percent of hotels and guesthouses [in popular areas] are considered illegal, so if they close them all down, they will be left with only 10 percent of accommodation," Staporn said. "The government needs to be sincere about this."
And there's the unresolved question of Airbnb's own legality. Condominium owners and some officials maintain Airbnb violates hotel and even immigration regulations, but the company insists it complies with the law.
In July, the company scored a symbolic win when it signed an agreement with a department under the Ministry of Interior Affairs, the first government agency to recognize Airbnb services as legal.
Orgill, who's in charge of the San-Francisco based company in Southeast Asia, said it should be treated as a legal entity like other platforms such as Booking.com and Agoda. He said his company will continue to work with officials.
"There is a mismatch between [regulations] and the digital era," he said. "The question is how do we bring them into the 21st century?"
Commenting on today's cooperation between Airbnb and the boutique hotel guild, an urban planning expert urged caution, saying there are "two sides to the coin."
In an interview, Tansorn Pornpanyapat, an assistant director of Chulalongkorn University's urban design center, warned that while an influx of tourists can revitalize communities and boost their economies, they same boom can damage their character and sense of community.
He cited increasing gentrification of some quarters of the old city and the rush of development following extension of the metro and skytrain lines as examples.
"Communities should prepare what to do in the face of development," Tansorn said. "I am not against development, but people in a community should prepare for it together. And Bangkok is very weak in this aspect."
Related stories:
In a First, Govt Official Stands by Airbnb Legality
Airbnb Teases Major 'Partnership' With Thai Gov't

Thai Law: Case Closed on Airbnb. Here's Why it Won't Matter.

Airbnb Launches New Features in Thailand, Remains Totally Illegal