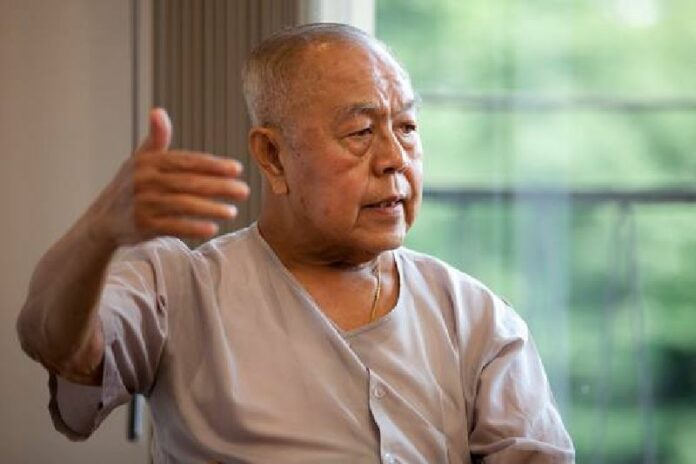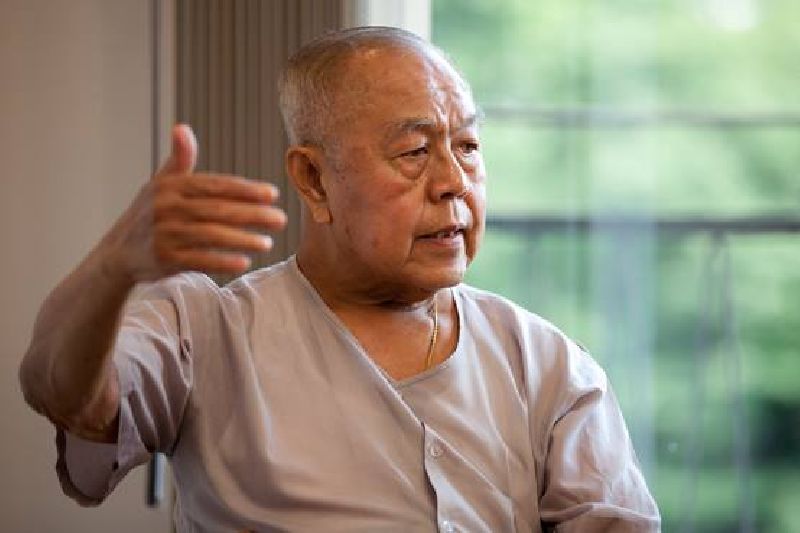 BANGKOK — A group of ultra-royalists have accused a prominent Thai historian of defaming the monarchy by raising doubts about a historic elephant battle between an ancient Thai King and a Burmese general 400 years ago.
The royalists filed a lese majeste (insult of monarchy) complaint against the author, Sulak Sivaraksa, at Chanasongkram Police Station in Bangkok today, according a report on Chao Praya news site.
In Thailand, criticising the monarchy is punishable by up to 15 years in prison under Section 112 of the Thai Criminal Code.
Lt.Gen. Padung Niwetsuwan, a member of the group, said the 82-year-old writer insulted the Thai monarchy by questioning the accomplishments of King Naresuan, who ruled ancient Thailand – known then as Ayutthaya Kingdom – between 1590 and 1605.
According to Lt.Gen. Padung, Sulak suggested at a recent academic forum that the elephant duel between King Naresuan and the leader of the invading Burmese army, Minchit Sra, may not have happened, contrary to the account in official Thai history.
"He also made many other remarks that can be deemed libelous of the Higher Institution," Lt.Gen. Padung said.
Although Thailand's lese majeste law only officially covers the King, Queen, Heir-Apparent, and Regent, in practice it is used to punish comments deemed insulting to any aspect of the monarchy.
It is unclear whether police will take any action against Sulak. A self-identified "royalist reformer," Sulak has faced previous charges of lese majeste for making frank statements about the Thai Royal Family, though none of the charges have been taken up in court.
Elephant battle as 'propaganda'
According to a post on his Facebook page, Sulak told an academic seminar at Thammasat University on 9 October that Thais should think critically about the alleged achievements of King Naresuan, who is portrayed by state media as a heroic warrior king who regained Thailand's "independence" from Burmese rule in the 17th century.
"Is Naresuan really a hero as they claimed?" Sulak reportedly said. "Did any of us actually see King Naresuan engaging in the elephant duel and killing [Minchit Sra]? And is killing [Minchit Sra] such a noble thing to do? We never questioned these issues at all."
The elephant duel between the Thai monarch and the heir to the Burmese throne allegedly took place during the Battle of Nong Sarai in present-day Suphanburi province in 1593. According to official Thai history, King Naresuan gallantly challenged Minchit Sra to a one-on-one elephant battle and killed him, effectively convincing the rest of the disheartened Burmese troops to retreat.
The duel has been immortalised in Thailand through school textbooks, TV dramas, and films. Thai authorities consider the elephant battle to be of such significance that the date of the duel was chosen for the National Armed Forces Day.
The duel was most recently dramatized in a film released this year called Legend of King Naresuan 5: Elephant Battle, which was partly sponsored by the military. The military junta praised the film as a must-see for all Thai patriots, and instructed cinemas across the country to arrange free screenings for the public in June.
In his Facebook post, Sulak called the film "propaganda" used by the post-coup "dictator regime." He added that foreigners in Thailand during King Naresuan's rule portrayed the ruler as a "cruel, evil, selfish, and cowardly" person, instead of the glorified hero that Thai authorities paint him as.
"Each time King Naresuan waged a war, how many foot soldiers died?" asked Sulak. "How many of their wives became widows? How many kids became orphans? … If we see history in this way, we will see that it is important to seek peace, not war."