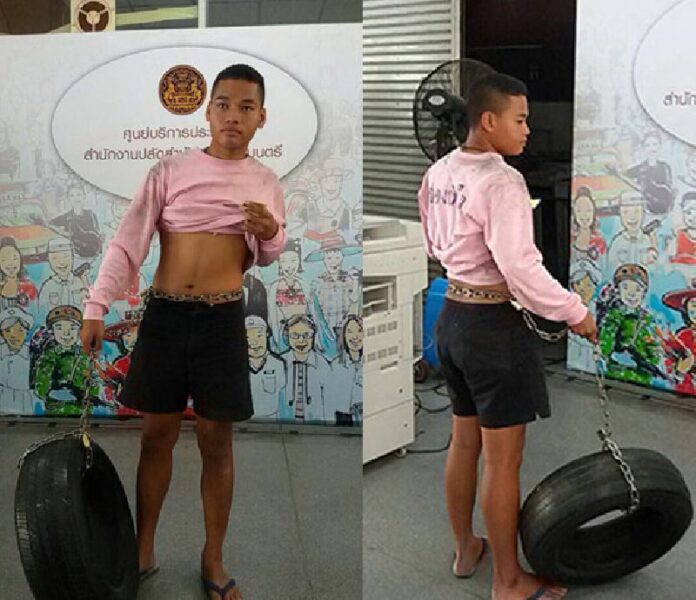 BANGKOK — A recent conscript who complained to the junta he was chained to a tire while carrying out his duties was told yesterday the chain he needs to worry about is that of command.
Walking into the junta's complaint office yesterday with a tire chained around his waist, Pvt. Anek Thongvichit alleged he was tied to a car tire by the retired Navy commander he'd been assigned to as his personal servant. The first part of Anek's request concerned a practical matter.
"Please show me fairness by unlocking the chains that [Rear Adm. Benjaporn Rear Bawornsuwan] has tied to me and by accepting me back into the military, and by setting up a committee to investigate this incident and taking appropriate legal action," his letter reads. Officials complied and cut the chain.
READ: Rear Adm. Benjaporn fires back with counter-accusations
Anek told officials his commanding officer sent him to serve the retired Rear Admiral last week at the man's home in suburban western Bangkok, but the former top brasser was so dissatisfied with his carpentry skills that he chained him to a vehicle in the early hours of Tuesday as punishment.
Government spokesperson Maj. Gen. Sansern Kaewkamnerd said today that the private should stick to the military's internal complaint procedure.
"Everyone in the military knows their duty and knows that, if they are treated unfairly, there's a procedure for that," Sansern said. "The correct and appropriate way is to complaint to their direct commander. If the direct commander do not listen to the complain, they can complaint to the higher-level commander, all the way to the highest-level commander."
Sansern added he was sure no commander at any level would ignore Anek's complaint, but did not mention what the private should do if that came to pass.
Anek said he eventually decided to escape – tire and chain still attached – by hailing a taxi from the commander's home and fleeing to his family.
Anek said he came to seek "the influence of the Prime Minister as my last resort" after filing a complaint to the Navy that did not receive any response.
The current Thai government is stacked with military commanders who staged the coup d'etat against an elected government in May 2014.
Private Anek said he was recently drafted and sent to a training center at a Royal Thai Navy base in Chonburi province. Under Thai law, all men at 21 must report for possible two-year mandatory military service, unless they have received military training in their high school years. People with medical conditions are also exempted from the draft.
Anek said he hadn't removed the tyre until he showed up at the complaint center, where officials cut it with a tool. He said he also filed a criminal charge with police against the retired Rear Admiral but was afraid the case would be ignored unless he took it to the government.
"Nevertheless, if this action of mine is a reckless mistake, I'd like to ask you to forgive me, or take any other action that you deem appropriate," he wrote.
The Thai military is known for its occasional abuse of low-ranking personnel at the hands of their commanders. In 2012, a conscripted soldier was beaten to death by his commanders at an army base in Narathiwat province.
To reach us about this article or another matter, please contact us by e-mail at: [email protected].