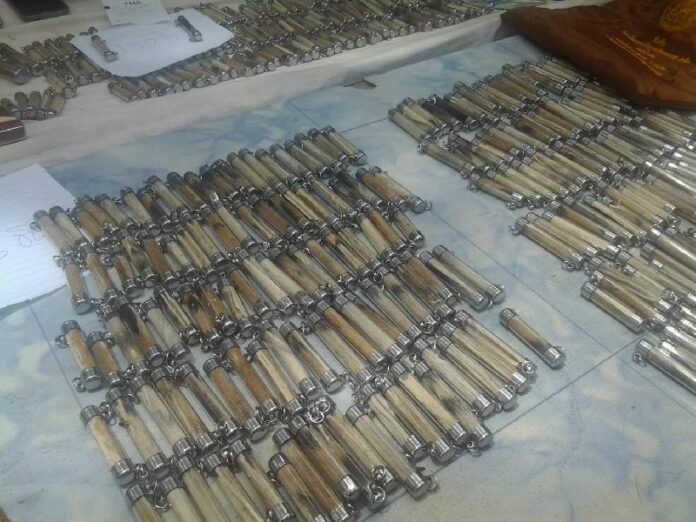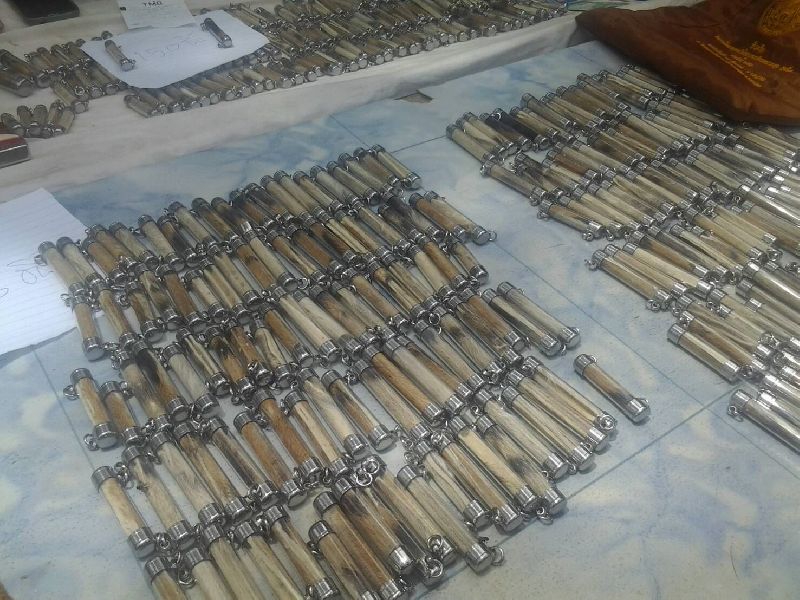 KANCHANABURI — Nine tiger fangs, more than 1,000 amulets containing tiger skin and dozens of jars filled with dead animals and animal parts were found this afternoon in a pick-up truck driven out of the Tiger Temple by a monk and two disciples.
While officials continued to catalog the horrors hidden within, the seizure of a large stock of mystical amulets containing actual tiger parts being taken out of the temple by a monk furthers the impression that the worst kind of trafficking was going on at a place that marketed itself worldwide as a friend to wildlife.
The two disciples were identified as Net Kulruengkrai and Kongkiet Chanpeng. The monk of the temple was reportedly known as Phra Lamom.
The pick-up truck was about to leave the temple at around noon when it was stopped by officers at a checkpoint set up in front of the temple.
---
Lion, Tiger Pelt, More Wildlife Discovered Inside 'Tiger Temple'
---
Neither regional wildlife officer Yanyong Lekavichit who is in charge of the raid nor temple lawyer Saiyood Pengboonchoo could be reached for comment.
Inside the jars were found a baby moonbear, leopard organs and more baby tigers. Earlier today officials discovered a living lion hidden away, at least one large tiger pelt and other protected species.
For years the commercial temple has profited handsomely from tourism while billing itself as a spiritual organization dedicated to wildlife conservation. It opened 22 years ago with a handful of tigers, a population it increased through an active breeding program.
Last year a former veterinarian joined those who've long criticized the temple with allegations of trafficking, saying it had sold at least three tigers.
Officials have been making grim discoveries ever since they finally gained access to the site, where tourists pay to pose for photos with the tigers, including 40 dead newborn tiger cubs on Wednesday.
The Department of National Parks, Wildlife and Conservation filed trafficking charge against the temple yesterday. No one at the powerful and profitable facility has been personally identified for prosecution.
According to Associated Press, the temple disciples riding in the truck were arrested and charged with possession of illegal wildlife, and the monk would be arrested once he was defrocked.


Related stories:
Lion, Tiger Pelt, More Wildlife Discovered Inside 'Tiger Temple'
Horrible Discovery in Tiger Temple: Dozens of Dead Tiger Kittens (Photos)
Officers Enter Tiger Temple to Begin Removing Tigers
Another Showdown as Tiger Temple Blocks 1,000 Wildlife Officers
Activist to Sue Over Tiger Temple Zoo Permit
'Tiger Temple' to Sue NatGeo Over Damning Report