SURAT THANI — A seventh warrant was issued Thursday in connection to the spree of bomb and fire attacks during Mother's Day holiday, while elsewhere the only suspect arrested so far denied all charges against him.
Military judges in Surat Thani province approved an arrest warrant for Sukeeman Kubaru, 34 of Narathiwat province, for allegedly placing a bomb which later exploded Aug. 12 near a market in Phang Nga province. He was accused of also being behind school milk truck turned car bomb recently disarmed in the Deep South.
Sukeeman was charged with possession of explosives and attempted arson.
Among the seven suspects named since the attacks one month ago, only one has been arrested. Head police investigator Gen. Srivara Ransibrahmanakul said today that Abdulkadir Saleah has denied any involvement in the firebombing of a Lee Mart Super Wholesale Building on Aug. 12 in Trang province.
Taken into custody Sept. 5 by the military, he heard the charges against him Tuesday in a military court and was taken moved from a Pattani province military base to a prison in Nakhon Si Thammarat province.
Srivara, who traveled to questioned Abdulkadir himself today, said the motive of the stunning August attacks which hit seven provinces and killed four people cannot be determined.
Those assertions are growing increasingly bizarre given the abundance of physical evidence and suspects that all point to it being carried out by southern separatists.
Earlier this month, the separatist movement BRN reportedly even took claim for the attack. Srivara maintains that police have found no link to the group. Among claims made about his government's successes just today, an ebullient junta leader, Prayuth Chan-ocha, said great progress had been made through peace dialogues.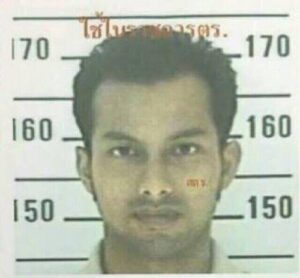 As with the former six suspects, Sukeeman has a striking resume of suspected links to attacks in the southernmost provinces where a long-running insurgency has sought independence from Bangkok.
He was recently identified as the man who parked a stolen pick-up truck used for delivering milk for schoolchildren in front of a police station on Sept. 2 in Narathiwat. It was later destroyed in a controlled detonation.
The Narathiwat native was also allegedly seen in security camera footage parking a motorcycle bomb on a street in the Thailand-Malaysia border town of Su-ngai Kolok on June 26 before it exploded and injured two people.
Authorities said Sukeeman also has an outstanding arrest warrant from 2006 issued by the Narathiwat provincial court.