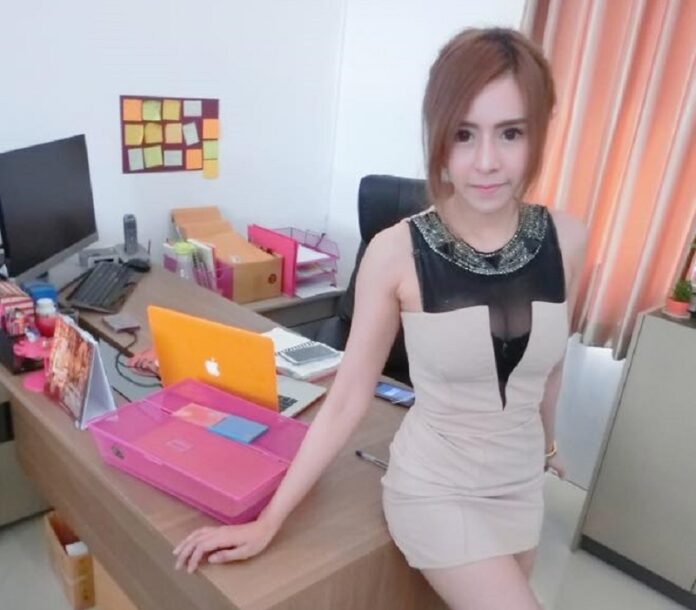 BANGKOK — Police said Monday they're not sure why an internet celeb accused of crashing into eight cars while under influence of meth two months ago was allowed to take a test to regain her license to drive.
Despite facing a criminal trial for DUI stemming from the November incident, Kritrada "Zomy" Tabtimphol posted a photo of herself sitting for a written driving test on Saturday, which the officers in charge of her case said they were at a loss to explain.
"I didn't think she could do that," Col. Arkom Chantanalat, chief of Huai Khwang police, said by telephone. "Maybe the Land Transport Department is unaware of information about her case?"
Read: 'Millionaire Pretty' Who Hit 8 Cars High On Meth: Police
Arkom later said he was informed by the department that barring a conviction or special court order, Kritrada was entitled to get a new license.
Arkom said his force revoked Kritrada's driving license after she crashed her BMW into eight cars on Nov. 1 and caused traffic mayhem on Ratchadapisek Road with her erratic behavior. Three people were injured.
But Kritrada, who came to fame as a commercial model, or Pretty, posted a photo of her written exam for a new driving license on Saturday. While many comments were posted in support of Kritrada, others chastised her for taking the test while her criminal case is ongoing.
Kritrada appeared to have either deleted the photo or made it private by Monday afternoon. She did not respond to a reporter's messages requesting comment.
Arkom, the police station chief, said police and the department don't share a database of offenders barred from driving due to traffic-related criminal cases.
"This is an issue about systems that need improving and linking with each other, and areit's not updated," Arkom said.
The Nov. 1 crash caught widespread attention particularly because of the bizarre behavior Kritrada exhibited after exiting her vehicle. Not only did she shout there was a bomb in her car, she also prayed and danced when policemen tried to question her. She later fainted at the police station and was taken to a hospital by her family.
Lab results sent to police later revealed she was under influence of methamphetamines at the time of the incident, police said. Kritrada was subsequently charged with DUI and other related offenses. She was freed on bail.
Related stories:
'Millionaire Pretty' Who Hit 8 Cars High On Meth: Police
Hospital, Police Trade Blame as 'Millionaire Pretty' Treated For Stress
Cops Waived Sobriety Test for Net Idol 'Millionaire Pretty'
Cops Have Yet to Charge 'Beauty Idol' Who Crashed Into 8 Cars