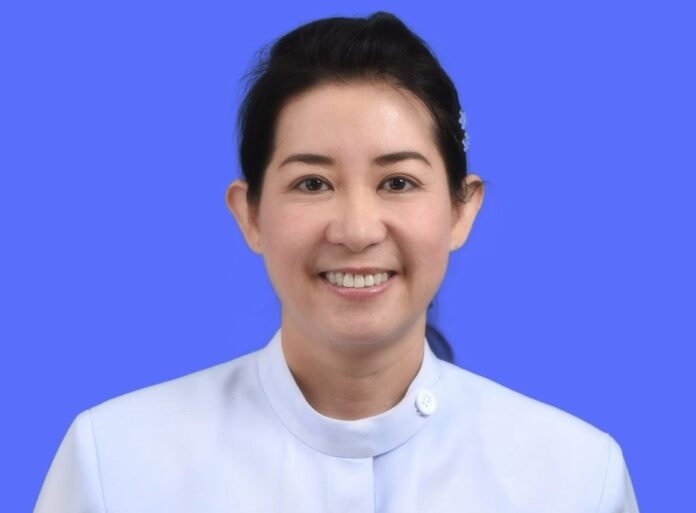 BANGKOK — Security forces on Thursday afternoon refuted claims that a follower of the Dhammakaya sect died of an asthma attack because their blockade prevented help from reaching her in time.
Pattana Chiangraeng, 48, died after an outside medical team was delayed over an hour from rendering aid because of roadblocks set up by soldiers in the area, a temple spokesman said. A spokesman for the authorities said there was no attempt to obstruct help for the woman.
It's the second death that resulted from the ongoing siege of the Wat Dhammakaya complex by the Department of Special Investigation, or DSI, who's seeking the arrest of the sect's spiritual leader on money laundering and other charges.
Temple spokesman Dantamano Bhikku said Pattana, who worked as a nurse assistant for the temple's medic team, suffered an asthma attack at about 11:30am Wednesday and contacted a friend on the temple's medical team for help.
When the medical team attempted to reach Pattana, they were stopped by soldiers manning a checkpoint, according to Dantamano. After negotiating for about 20 minutes, the soldiers reportedly said they didn't have permission to let anyone pass through, and told the team to contact the DSI at the temple's main gate several kilometers away.
Officials dispatched an ambulance to rescue Pattana, but she was already dead when it arrived about 30 minutes later.
Line chat messages distributed by the temple support the sequence of events, and the DSI does not dispute them. But DSI spokesman Woranan Srilam denied that the temple medical team was turned away by the soldiers.
"No one was held up at the checkpoint," he said.
A number of security forces, including the DSI, police, border patrol police and military, have been besieging the temple since Feb. 16, when the junta granted them sweeping powers to search for former abbot Dhammachayo. The order was issued under Article 44 of the interim charter, which grants junta chairman Prayuth Chan-ocha to enact any policy as he deems fit.
On Saturday night, a man hanged himself from a cellphone tower outside the temple to protest the use of Article 44.
Dantamano said he does not want to blame authorities, but he wants them to have better coordination.
"The point is this: there are many forces involved [in the siege], and they interpret the order under Article 44 differently," the monk said. "I'm not saying they were being inhumane. They just didn't know what to do."
Woranan, the DSI spokesman, said the authorities are in contact with the temple's medical units to make sure that any further case of health emergency will be resolved quickly.
Related stories:
DSI Detects Dhammachayo's Phone Signal
Dhammakaya Monks Confront Soldiers Trying to Enter Unfinished Hospital
Inside Wat Dhammakaya, Defenders Say Morale and Mistrust Run High
Dhammakaya Bans Three TV Stations For 'Biased Reporting'
Old Grievances Flare on Social Media Over Dhammakaya's Divisiveness