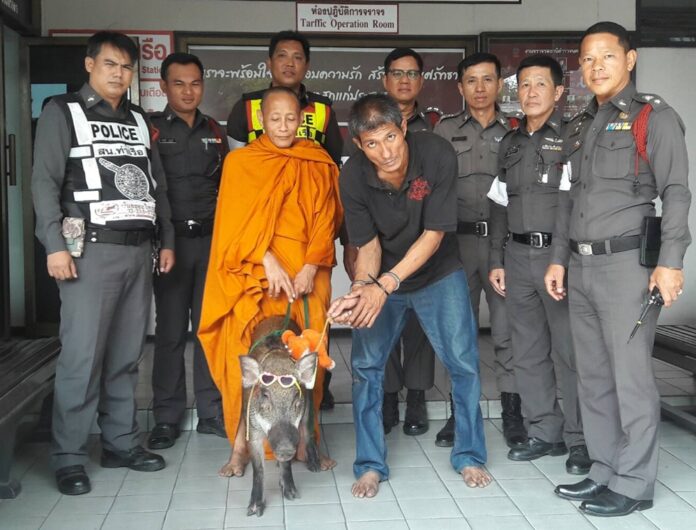 BANGKOK — A former boxer fallen on hard times was arrested for allegedly snatching what he thought was a gold necklace from a pig walking with a monk Monday morning in a Bangkok market.
Wichai Wichayo and his male pig, called Boonchuay, were collecting morning alms at the Khlong Toei market at about 8:35am when the suspect struck, snatching a gold necklace worn by the animal, which was also mounted with a radio and stuffed monkey.
The monk called for help and people nearby apprehended the thief until police arrived.
The suspect was soon identified as Songpol Buasoot, 34, a former professional boxer based in Maha Sarakham province. Songpol was charged with theft. He confessed to the crime, Lt. Col. Prachaya Grasaelap of Tha Rua police wrote in response to an inquiry.
Apparently the monk and pig duo pass through the market every morning without incident.
Prachaya said Songpol recently retired from the ring and had unsuccessfully sought work in Bangkok.
He ran out of money, the officer said, so when he saw Boonchuay, who also wore heart-shaped sunglasses propped up on its snout, he made a grab for the necklace, thinking it was pure gold.
The necklace was actually just made of plain metal, Prachaya noted.