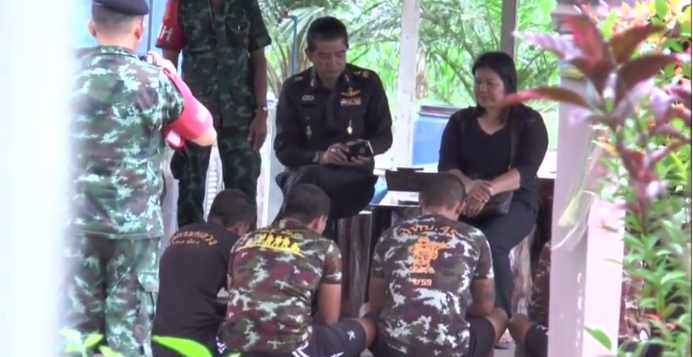 SURAT THANI — Eight soldiers accused of beating a young army recruit to death on the national draft day were brought to prostrate in front of his mother in apology Wednesday.
Eight perpetrators behind Saturday's fatal assault on Yutthaginan Boonniam, 22, who had been detained for unspecified reasons at a military prison in Surat Thani, were brought to prostrate before his mother.
Prior to her trip to the prison of the 45th military circle in Surat Thani province, Renu Moderakhee, said she had now lost all of her resentment toward those who slayed her son.
"I was resentful and intended not to forgive them," said the 40-year-old mother when asked what would she said to them. "Now things have begun to be sorted out, I would like to forgive them. Everybody has their own karma."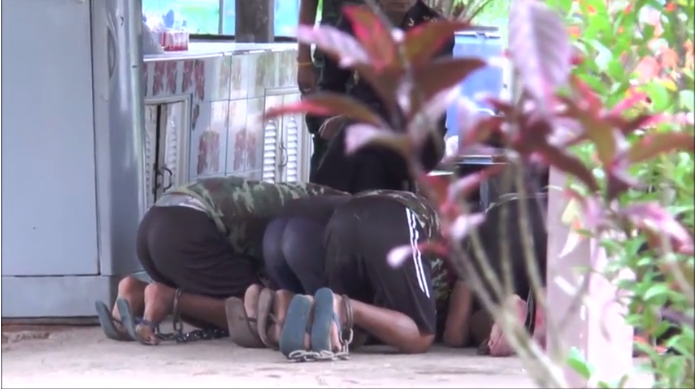 A provincial military court on Thursday approved an arrest warrant for nine people involved in Yutthaginan's death. Eight of them were detained at a prison inside the military base while the other was moved to an inactive post.
Regional army commander Lt. Gen. Wichai Tassanamonthian, said the investigation found five people responsible for beating Yutthaginan while the rest were known to have been aware of fatal assault but did nothing to stop it.
Wichai said he also ordered all officers working at the prison be reshuffled for their negligence.
The army's internal investigation team will finish its report on the case on Friday.
Surat Thani police said they would seek the court's permission to detain all suspects at the military prison where most of them already are. They were also gathering evidence to seek warrants for more suspects soon.
Any justice for Yutthaginan's death only seemed brought by pressure from social media after one of his relatives posted the story online. The incident occurred at the beginning of the annual military draft, which will conscript up to 103,000 men into two-year mandatory service.
Related stories:
Perpetrators in Fatal Beating of Soldier Not Yet Named