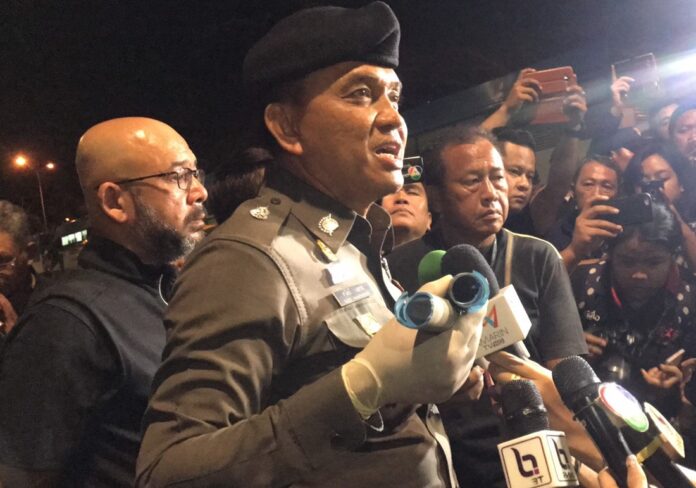 BANGKOK — On Monday, the Bangkok police commander visited the site of an explosion that wounded two people and told reporters it was not an explosion at all, but a "explosive-like loud bang" caused by a malfunctioning water pipe.
There was not even a trace of gunpowder to be found, Lt. Gen. Sanit Mahatavorn reassured reporters as he scooped up remnants of a plastic pipe and displayed them for photos.
By Wednesday, the day after a police leak burst his implausible claim of an injurious water pipe, Sanit admitted that he made up his original version of events. The lie was necessary to deceive the perpetrators, said the lieutenant general, who has been accused of lying to deflect criticism before, most infamously about monthly payouts from a brewery he had disclosed in public records.
"It was a deceptive tactic to lure the perpetrators into a false sense of security," Sanit told reporters Wednesday afternoon. "In fact, police have been working in secret, which is another tactic."
Sanit has a spotty transparency record. When an investigative news site disclosed in March that the officer had disclosed a hefty salary as an advisor to ThaiBev, the conglomerate that owns Chang beer – a practice forbidden under police regulations – Sanit denied it. Though documents show his signature acknowledging the money, Sanit blamed it on a clerical error.
His dramatic U-turn today came after other police and government leaders described the explosion as a bomb attack, undercutting Sanit's explanation of a malfunctioning plastic pipe.
In his comments Wednesday reframing his earlier fabrications as advanced police work, Sanit pledged to bring those responsible to justice.
"The people who committed this wrongdoing, who are they? We have to capture them," Lt. Gen. Sanit said. "Even if it takes us 10 lifetimes, we will do it. As long as a man named 'Sanit' is here, we will find them."
The incident took place in front of the National Theatre, a particularly sensitive area at present for its location near the royal park where funerary rites for His Majesty the Late King Bhumibol are being prepared. Two people reportedly suffered slight injuries when the bomb went off at about 8.40pm on Monday.
Thawatchai Mekprasertkul, commander of the police forensics department, said his team has already identified what type of explosives were used, but would not disclose any further information.
Maj. Gen. Thawatchai said all questions must go to deputy police commissioner Srivara Ransibrahmanakul, who has been placed in charge of the investigation. Lt. Gen. Srivara is often tasked with issues related to national security and terror attacks, such as a series of arson and bombings which struck southern Thailand in August.
Someone answering Srivara's phone said he was unavailable to speak.
Deputy junta chairman Prawit Wongsuwan said he has instructed officials to find the perpetrators behind the Monday night's attack. He also speculated that the incident might be an attempt to "discredit" the junta, which is about to mark its third anniversary in power next week.
"Now that we've completed the third year, some people may want to discredit the work of the government and [the junta]," Gen. Prawit said.
A spokesman for the Ministry of Defense said the military is working closely with police – including intelligence sharing – but asserted the police are in charge of the investigation.
Maj. Gen. Kongcheep Tantravanich said he does not suspect any group in particular to be behind the attack.
"I don't have anyone in mind yet," Kongcheep said. "I want police to work to find out who they are, who they are related to, who did this."