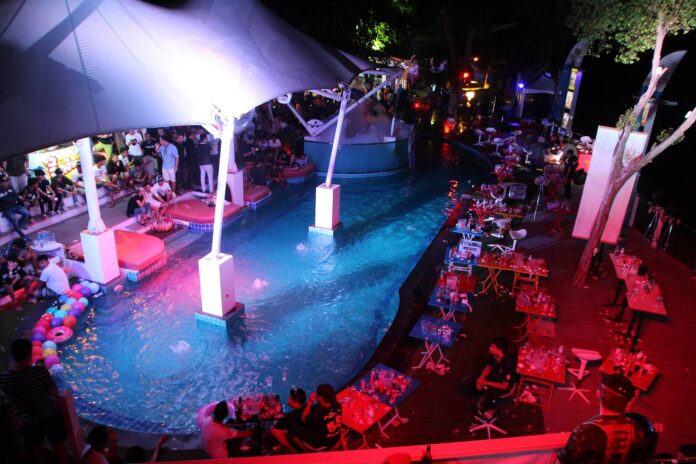 PATTAYA — Authorities raided a club early Sunday morning and charged the owners with running an illegal entertainment venue, an operation in which police said 150 partygoers tested positive for drugs.
After reports that it operated without a license, police and soldiers of the 21st Infantry Regiment raided a pool party at Cliff Pool Party Club Pattaya and found 150 of the roughly 500 Thai and foreign partygoers failed drug tests. Among those at the venue was a minor, who police said was distributing drugs.
All were charged with illegal drug usage and taken to Bang Lamung police station for further legal action. If convicted, they each face jail terms between six months and 10 years and a fine between 5,000 to 100,000 baht.
Col. Apichai Krobphet of Pattaya police station told Matichon more than 63 bags of ketamine, 80 ecstasy tablets and 90 nimetazepam, or "Happy 5," pills were confiscated from the premises.
A blackout at the venue while the raid was underway allowed a number of partygoers to flee the scene. Later, a police car was found with flat tires, while the keys to a military armored vehicle went missing. Authorities believe the fleeing partygoers may have been responsible for the theft.
Event organizer Piyapong Poinok, or DJ Ball, and the venue's manager Jirapong Promdam were charged with operating an entertainment complex without a license, allowing illegal drug use in its premises and the entry of minors. They were also charged with illegally promoting alcoholic beverages by displaying brand names and logos.