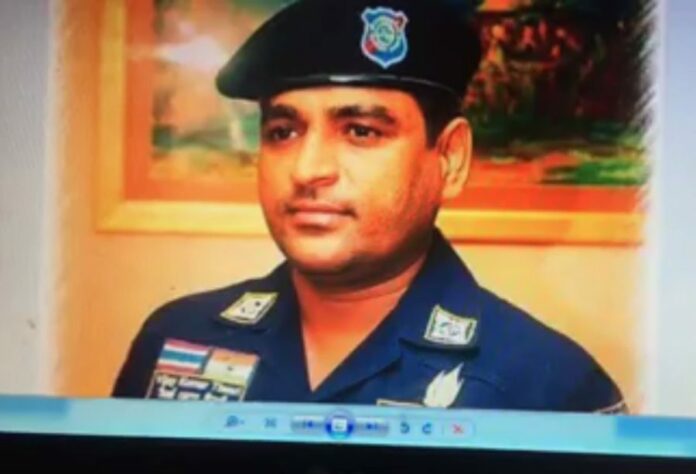 PHUKET — The chief of tourist police on Phuket on Tuesday declined to discuss accusations that two volunteer members of his force targeted foreign business owners and migrant workers in a racketeering scheme.
Reached for comment on the accusations made in a video published Sunday to Facebook, tourist police commander Col. Thongchai Wilaiprom said he had work to do and ended the call. The provincial immigration police commander said Monday he had instructed his deputies to look into the accusations.
In the video, which had been watched more than 35,000 times as of Tuesday afternoon, a whistleblower accuses two volunteers of extorting "protection money" from business owners and collecting bribes for their Thai supervisors on the force.
"Do you want to become mafia in Thailand? Do you want to control Indian people in Patong?" the admin of Spotlight Phuket says in the video in English before switching to Thai. "If you are angry at me, go ahead and sue me. I have evidence. There are estimates of your bribe collection. They are darlings of the Tourist Police."
But his Bangkok counterpart, Maj. Gen. Prasert Ngernyuang, said Tourist Police would not tolerate foreign volunteers abusing their positions.
"If anyone has engaged in wrongful behavior, and if an investigation confirms it's true, they will be stripped of their status and removed from duty," Prasert said by phone.
According to Spotlight Phuket's video, two Indian men identified only as "Veejay" and Deeval" extort businesses owned by Indian, Nepalese, Bangladeshi and Pakistani nationals on Phuket island.
"Thais extorting Indians, I'm not very [surprised]. But I just learned there are Indians extorting Indians!" says the narrator, who only identifies himself as "Joe."
He goes on to allege that the pair often dressed in volunteer police uniforms, which looked similar to actual sworn officers of the law and can easily mislead unsuspecting victims.
"You see them dressed like this, are you afraid?" he told his audience. "And do you think the Indians would be afraid of them? Of course they would! Piss their pants!"
Foreign volunteers are part of the Tourist Police's effort to communicate with foreigners and help patrol the streets in tourist destinations.
Maj. Gen. Prasert said there are about "500-600" foreign tourist police volunteers across Thailand. The force needs their unpaid assistance because the enlisted personnel – only 1,700 in a country that welcomes more than 30 million tourists per year – are not enough.
The Spotlight Phuket admin went on to accuse the two Indians of identifying which business hires undocumented foreign workers and colluded with a local policeman named "Aon" who then extorts bribes from those business owners.
Some restaurants owned by the nationals of the four countries were also forced to pay bribes to tourist and immigration police, the admin alleged.
Southern regional immigration police commander Jessada Yaisoon said Monday he had instructed his deputies to look into the claims.
"We already saw the reports from Facebook," Maj. Gen. Jessada said by phone. "It's a good thing, sometimes people complained to us. We are investigating the issue. We try not to allow this kind of behavior."