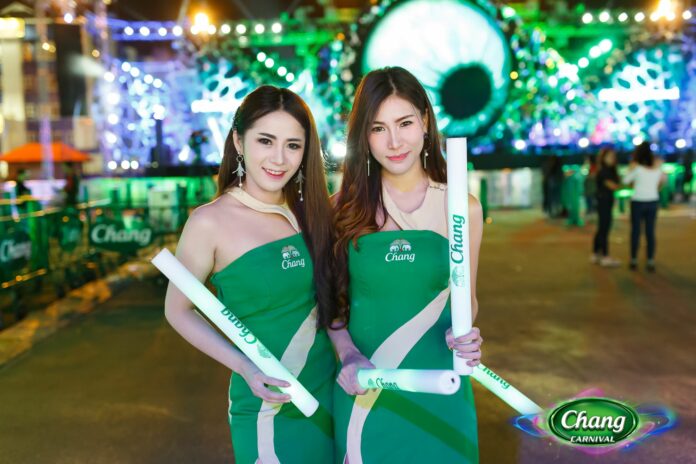 BANGKOK — A top alcohol regulator said Monday his agency is suing the popular open-air beer gardens at CentralWorld Plaza for violating advertising laws.
The legal action won't stop there, said Alcohol Control Board director Nipon Chinanonwait, who threatened to crack down on similar events nationwide on the grounds that they entice the public to drink. A trade guild denied Nipon's allegation.
"Beer gardens themselves are against the law. We have to take action," Nipon said in an interview. "This is because the form of beer gardens is event marketing. Because, let me ask you, who would open beer gardens without a purpose?"
Nipon's comment came after he took officials and police to inspect the beer gardens Thursday night at the downtown shopping mall. They are set up annually by major brewers of brands such as Chang, Leo and Singha, and usually feature live music in a festive atmosphere.
Following the raid, Nipon pressed charges against the beer garden organizers for violating Section 32 of a 2008 law that bans attempts to "encourage" drinking. If found guilty, violators face a maximum fine of 500,000 baht.
But Thanakorn Kuptajit, president of the Thai Alcohol Beverage Business Association, said beer gardens do not fall under Section 32 because they sell drinks, but don't advertise them.
"We believe it's not illegal," he said. "Do these beer gardens have a license to sell [alcohol]? As far as I know, they do. Since they have licenses, their actions are lawful."
Nipon also said he plans to take similar action against other beer gardens.
"We already held a meeting with police. They were told that we will do the same all across the country," the official said. "Police said we can alert any local unit if we see an infraction anywhere."
Back in 2015, beer gardens were the targets of prosecution under Nipon's predecessor, Samarn Futrakul, who threatened legal action against the same beer conglomerates, ThaiBev and Boonrawd. Samarn eventually backed off after junta chairman Prayuth Chan-ocha joined in the backlash, publicly chiding him for going after the multi-billion baht industry.
It is unclear whether the military regime will support or discourage Nipon's campaign. For the time being, the charges have only been filed against the beer garden organizers instead of the two big brewers.
"We have to take it step by step," he said.