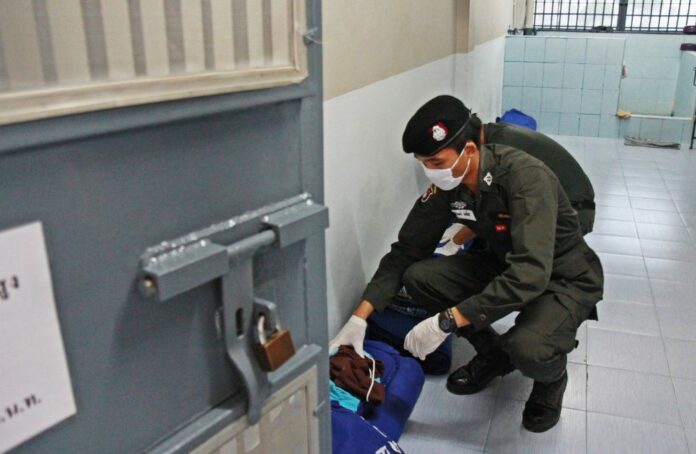 BANGKOK — The military government said Tuesday it would begin devising ways to reduce prison overcrowding.
The promised reforms would solve long-standing problems of not only over-capacity prisons but also people receiving harsh punishment for small crimes, government spokesman Sansern Kaewkamnerd said at a news conference.
"It causes problems in the administration of criminal justice … to accommodate a huge number of cases and a lot of spending," Lt. Gen. Sansern said. "It causes problems of cases flooding the courts and prisoners overcrowding prisons."
Council of State member Kanit na Nakorn praised the government's proposal, adding that the issue has been discussed and proposed for several years now by legal experts. Kanit was among a group of lawyers who petitioned the government in 2017 to take up the reform.
Kanit, whose agency interprets the law for the the state, said the criminal code is often abused to prosecute people and dish out unnecessary jail terms.
"Most of them involve drug charges," he said. "There are also cases that we lawyers like to call rok rong rok sarn [dumping a mess on the court], like libel and public assembly laws."
There are now about 330,000 people incarcerated across the country – double the intended capacity, according to the International Federation for Human Rights. Human rights advocates have long criticized Thai prisons for overcrowding, squalid conditions and rampant abuses.
In 2017, the federation called for "urgent reforms" in Thai prisons. In the same year, the United Nations specifically urged Thailand to improve conditions for female prisons, adding that the kingdom has one of the highest rates of female detention in the world.
Sansern said the government would work with the Council of State to implement the reforms to the criminal code.
No specifics were laid out. Kanit said he has yet to see a genuine effort by the military regime to take up the matter, citing recent attempts to jail pro-democracy activists.
"It depends on whether they are really sincere, but throughout these years, I haven't seen any clear signal from the government that they prioritize unequal access to justice," the lawyer said. "Police and the military still exercise full power, like in the case of Public Assembly Act"
Thirty-nine people were charged with violating the gathering law for joining a protest on Jan. 27 to demand an election in November. Police also charged nine activists with sedition for allegedly organizing the rally.
The court later rejected police's request to jail the nine activists while their trial is ongoing.