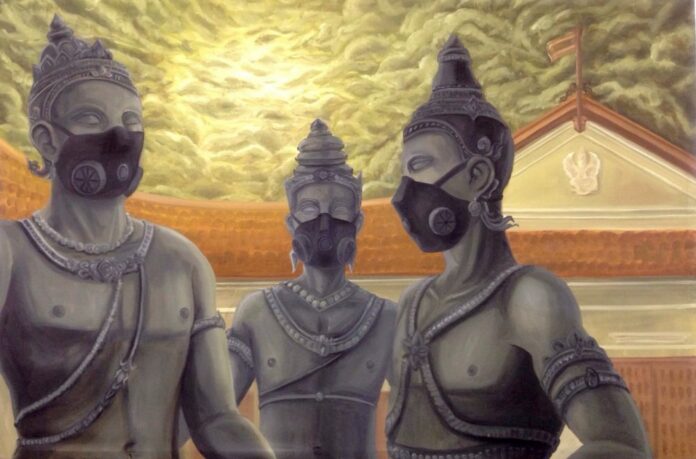 CHIANG MAI — The governor of Chiang Mai province said Sunday he filed complaints against a news website for using a parody image of the city's founding kings in its campaign to fight smog.
The image shows the three kings purported to be founding fathers of Chiang Mai's pre-modern city – Mengrai, Ramkamhaeng and Ngam Muang – wearing face masks under a hazy sky. Gov. Pavin Chamniprasart said he wants police to prosecute the City Life Chiang Mai website for violating cybercrime laws.
"Their offense is mocking the three kings, who are the fathers of the Lanna Kingdom," Pavin said in an interview, referencing the ancient precursor of Chiang Mai.
The Computer Crime Act outlaws putting anything that damages the "good morality of the people" onto a computer.
City Life editor Pim Kemasingki said Sunday the picture was drawn by a schoolgirl in the province and forwarded to her by a teacher, so she selected it to draw attention to the smog, which is harming the health of Chiang Mai residents.
Pim said in an interview her intent was to raise discussion about the persistent haze issue, and she deleted the image after it drew a backlash.
Pavin said his office will not pursue charges against the student responsible for the image.
"Let me insist that I'm not taking action against the kid," Pavin said. "That person didn't disseminate the picture. The wrongdoer is the website. Are we on the same page now?"
A legal rep for the City Hall filed the complaint at the Chang Puak Police Station on Friday. Earlier that day, a group of citizens petitioned the government to be more proactive in solving the smog issue. Although the petition was spearheaded by the City Life website, Pavin maintained it was unrelated to his legal complaint.
Station chief Amornchai Panya said no one had been questioned as of Sunday morning.
"We have to verify the source first, that it was really [posted] on that website," Col. Amornchai said.
The decision by the governor to take action against City Life drew criticism on social media, where comments said the authorities should focus on solving the air quality problem instead.
"Shouldn't they use their time to solve problems with wildfire and burning, or warn the public to wear face masks to protect themselves?" user Surapong Jintanapirn said in a thread on the City Hall's PR page. "Do you know how much despair I feel to see puu yai doing stupid stuff?"
The governor said such criticism is unfair to his agency. Pavin said officials and volunteers have been putting out wildfires and enforcing environmental laws in recent years.
Air pollution levels in Chiang Mai are among the highest in Thailand. On Sunday morning it ranked among the 12 most polluted cities in the world. Its Air Quality Index, or AQI, stood at 151, or "unhealthy."
Related stories:
Charges Dropped Against Historian Over 'Elephant Duel'
Singer Fined, Forced to Grovel to Royal Statue for 'Indecent' MV