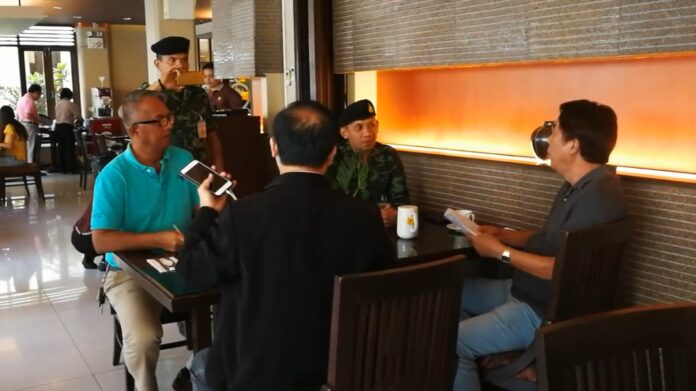 PHUKET — The military on Monday filed a police complaint against whoever uploaded a video clip purporting to show soldiers extorting a hotel owner on Phuket.
In response to a clip which appeared to show three soldiers from a counterinsurgency unit shaking down the Patong-area business last week, the Internal Security Operations Command, or ISOC, slammed it today as deliberately misleading and filed a defamation complaint.
"They announced themselves as soldiers. They did not physically harm anyone or ask for bribes," the statement read. "This is an edited clip intended to taint the image of the army, which is doing its duty to bring order to society and eliminate dark powers."
The video, filmed Tuesday, showed Visit Iamvirotrit of the Patong Paragon Hotel engaged in a heated argument with three armed soldiers in uniform. They told him the surprise visit was due to a violation of a 2016 special junta order targeting underworld figures.
The video was first posted Wednesday to YouTube where it has been watched more than 100,000 times.
In it, the soldiers can be heard invoking a junta order to tell Visit to stay put and wait for their commander, accusing him of being a so-called "influential figure." Visit can be heard telling them they are abusing their power.
The video spread after being shared to Facebook on Friday, where it was described in a caption as "three crooked soldiers on the hunt, accusing a businessman [of breaking the law] and trying to extort benefits from an operator of a famous hotel in Phuket."
The caption, posted by user Wanchalearm Satsaksit, alleged such extortion is commonplace, but "no one ever dares standing up against them."
But another clip released by the military offers a different perspective.
The military released footage of the soldiers announcing who they were to Visit in front of the hotel and explaining they had received a complaint about him. It was purportedly filmed before Visit led them inside and the quarrel erupted as seen in the initial viral video.
Attempts to reach Visit at the hotel for comment were unsuccessful.
In its statement, ISOC said the soldiers were responding to complaints by a "distressed" hotel employee fired by Visit for taking an approved leave of absence in December. Visit made a threat, it continued, telling the employee not to return to work or go to the police, bragging that he has tight connections with senior Patong officers.
ISOC is a special military unit that answers to the prime minister's office and addresses issues deemed matters of national security.
In the military's clip, Visit appears upset after the soldiers say that he's an "influential figure," a term that came en vogue in 2016 when junta leader Prayuth Chan-ocha granted sweeping police powers to the military to go after mafia-style criminal elements.
"How great it is to work for your unit, just accusing me of being an influential figure?" he said, sarcastically. "You came here in uniform and even armed!"
Army Lt. Gen. Surasak Peungyam said the agency's commanders want to prosecute whoever spread the video to the fullest extent of the law for distorting the truth and damaging the military's reputation.
In a related development, the chief of Phuket police today transferred two policemen accused of receiving bribes from the same hotel out of the area.
Defense Ministry spokesman Kongcheep Tantravanich said the army's complaints have been lodged with local police and asked for people to withhold judgment.
"The issue is currently under a criminal investigation," Maj. Gen. Kongcheep said. "I'd like everyone to wait for the facts to be revealed in order to provide fair treatment and justice to all sides."
The original clip that went viral online.
A clip released Sunday by ISOC.
Related stories:
Junta Launches Crackdown on 'Influential Figures' Stoking Crime