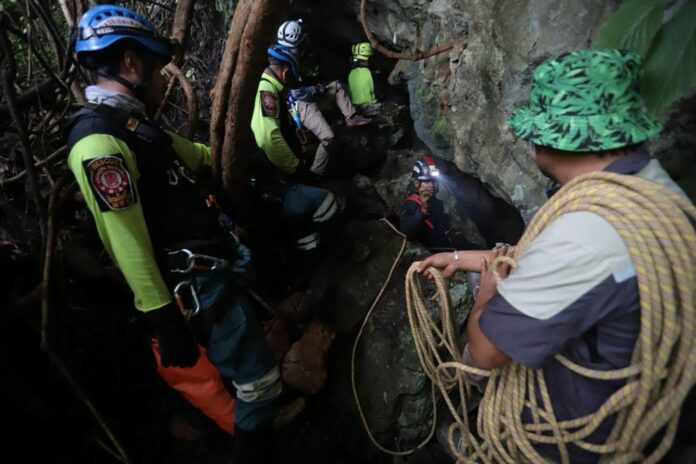 By Catherine Vanesse
BANGKOK — As Thai and international rescue workers are racing against time to extract 12 young footballers and their coach out of a northern cave, one more help could be at hand – but bureaucracy is getting in the way.
Read: Rescued! First Two Boys Rescued From Cave
Fifteen days into the rescue effort at Tham Luang Nang Non complex, cave experts from a French agency said they are ready to deploy and help, as soon as the Thai government formally requests for their help. But the Thai government said they would only accept help that comes on its own.
"For the moment, we have made two proposals but the Thai authorities have replied that they only accept voluntary aid," French Federation of Speleology chairman Bernard Tourte said. "We re-did a proposal this Thursday, in which we specified what we could bring in light of the latest information we have on the advance of the relief."
While speleology, or studies of caves, remains a niche activity in Thailand, it's a common subject in France, which boasts of large network of caves all around the country – similar to the one where 13 people have been trapped for more than two weeks.
They also have Tourte's organization, which counts experienced divers and cave experts among its ranks. The group announced it could send a team made up of a dozen lifeguard personnel, who are also used to working with an innovative tool such as a diving stretcher, which allows for trips underwater.
"This diving stretcher could not be used for every child and not all the way, but it could help especially if some kids start to panic after they passed some trap/some part of the cave on their way out," Tourte said.
But the Thai government said they have received enough aid, for now.
"The Thai side did receive a request from the French team via our Thai embassy in Paris," foreign affairs ministry spokeswoman Bussadee Santipitak said in English. "The Thai side appreciated the offer by the French team but after assessing the situation carefully on the ground, felt that there were adequate experts needed to help rescue [the 13].
Since the start of the search on June 23, hundreds of volunteers from around the world have reached the Luang cave complex, which Prime Minister Prayuth Chan-Ocha praised after the 12 boys and their coach were found
"I have to thank the International community for assisting us. This would not have been possible if we didn't help each other. Everybody did their part."
Tourte, the French cave agency chairman, said he's hopeful the Thai government will make the request because his team is equipped for help.
"Twenty specialists and 6 tons of equipment could be sent to the area within 24 hours," the speleologist said. "We are very concerned about this situation, especially after the death of the diver, we could try to avoid this kind of accident."
On its side, the French embassy contacted some associations to see how they could help rescue the children and to have an overview how France could help Thailand in case it receives an official demand from the Thai Government.
Additional reporting Pravit Rojanaphruk