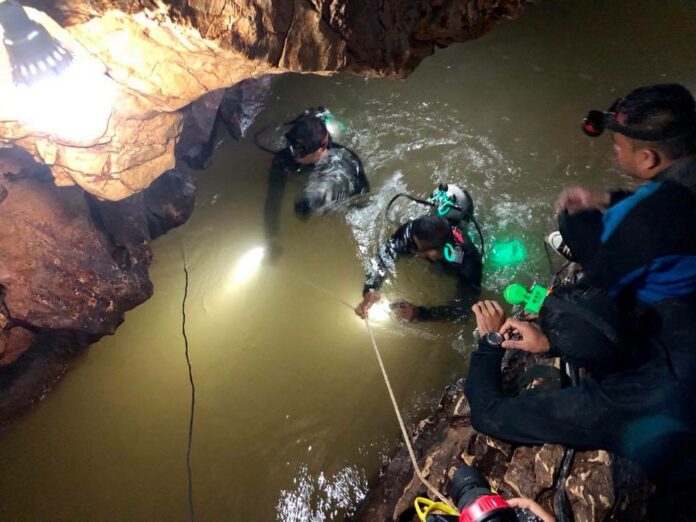 By Jintamas Saksornchai and Todd Ruiz
CHIANG RAI — Today is the day, the head of the rescue operation said Sunday morning.
Divers have begun the extraction effort at the Luang Nang Non cave where 12 boys and their football coach have now been trapped for a 16th day, according to former Chiang Rai Governor Narongsak Osottanakorn.
Read: Rescued! First Two Boys Rescued From Cave
"Today is the D-Day," he said. "At 10am, 13 foreign divers went in to rescue the boys with five Thai navy SEAL divers."
He insisted that all 13 were physically and mentally prepared, and their families notified.
Read: Reporters Ejected From Cave Rescue Site
Water and time remain the two difficulties facing rescuers. But with another storm brewing, he said it had to happen now.
"A new storm is coming. If we wait, if it rains, we'll have to continue pumping out the water again," he said as light rain fell outside local government offices where the media has been moved.
Two expert divers will accompany each child.
They will come out in pairs. He said the earliest they might come out could be at about 9pm.
Other alternatives, including drilling from the back of the cave have not proven successful, he said.
Read: What Will Happen When Cave 13 Come Ou (Map)
The regional army commander said they are confident in the plan devised.
"Every plan has to be practical. Now, we chose the best option, and we rehearsed it," Maj. Gen. Chalongchai Chaiyakham said. "When we were confident, then we started."
Some other key quotes from Narongsak at today's news conference:
"The obstacles are water and time. It's what we've been fighting from the first day."
"We are ready. The boys are ready and strong enough to come out."
"We've been rehearsing many ways, both on land, air and water."
"Please send your support to the boys and our teams."
LIVE: 'Today is the day'

โพสต์โดย Khaosod English เมื่อ วันเสาร์ที่ 7 กรกฎาคม 2018