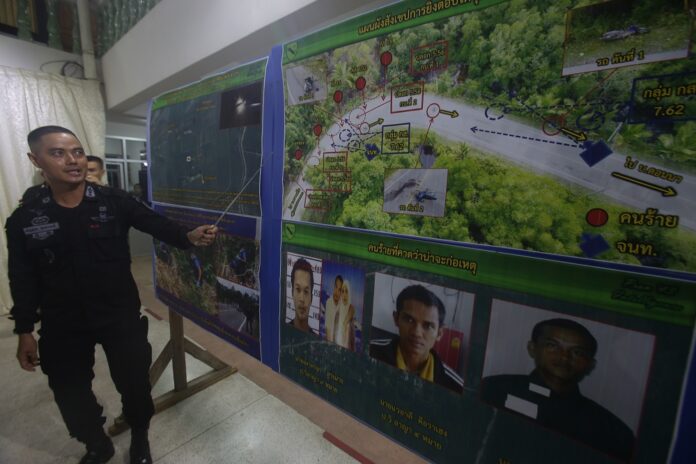 PATTANI — Some residents in the southern province of Pattani say they're intimidated by an ongoing army search for suspected separatists behind a recent deadly attack.
While the military defended the manhunt for those behind last week's ambush which left two rangers dead, locals living in Nong Chik district told the media they fear indiscriminate arrests and reprisals from security forces.
At the heart of their complaints is a new measure imposed under martial law requiring every household there to turn over their firearms, vehicles, motorcycles and even fishing boats to soldiers to verify ownership. A regional commander also hinted at punishing family members of wanted militants.
"This is an unprecedented phenomenon," Nong Chik resident Zahri bin Ishak said in an interview. "We had never seen use of martial law powers like this. Usually it was only used to detain a person. But this is like detaining the entire district."
Read: Drone Shoot-Down Policy Imposed in Deep South
The military said more than 1,000 soldiers, rangers, marines and police are participating in the operation, backed by helicopter patrols. Checkpoints have been set up, homes raided and suspected separatists detained since Sunday.
Col. Thanawee Suwannarat, a spokesman for a counter-insurgency unit, said tougher measures are necessary in order to capture those responsible for killing two rangers in the Sept. 12 attack, which left four others wounded.
"Although martial law has been in effect for many years now, we didn't use all of the provisions previously," Thanawee said. "But a serious incident took place recently, and there are many militants and their sympathizers in the area. They have a strong presence in these two subdistricts. So we have to step up our measures."
Thanawee, who represents the Internal Security Operation Command, said at least two people have been arrested and identified as the perpetrators.
However, media reports quote Nong Chik residents as saying that soldiers are questioning and detaining people seemingly at random. They said they avoid travel for fear of being arrested at checkpoints.
"The residents are very worried," Zahri said. "Even the fishermen don't take their boats to the sea right now, because the military has patrol boats out there, too."
Those arrested by the military are taken to army bases for interrogation without legal counsel. Col. Thanawee said lawyer visits are not necessary because "they're just talking," and no charges have yet been filed.
But what Zahri and others say upsets them the most is regional army chief Piyawat Nakwanich's threat to extend the crackdown on to the separatists' families.
"Right now we are preparing to intensify the laws. We might have to hold their parents, wives and relatives accountable as well," Lt. Gen. Piyawat told reporters Monday. "I'd like to urge the perpetrators to reconsider their actions and cooperate with the state."
Zahri likened it to punishing parents of bad students who get into fights with one another.
"We are really unhappy about this," he said.
Col. Thanawee said he believes Piyawat was only stating his opinion, because there's no legal basis for punishing of the families of criminals or suspected criminals.
"I think it's his own idea," the spokesman said. "I'm not sure if it's possible to do that."