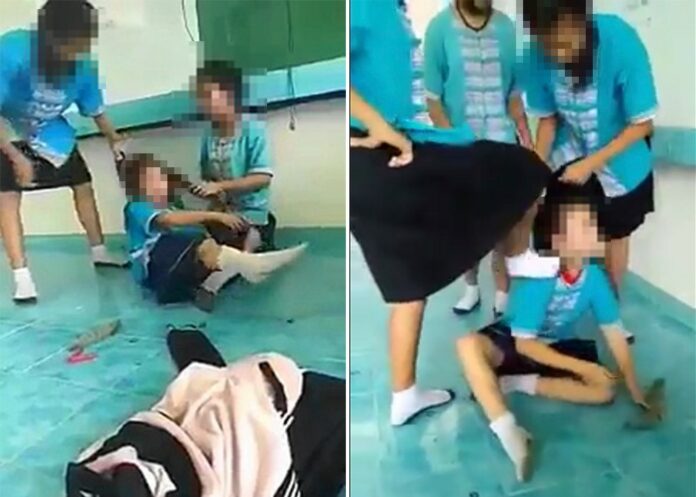 PHAYAO — The parents of a 10-year-old girl said Thursday that they would press charges against eighth graders who assaulted her at school in Phayao province last week.
The family – who said the girl is autistic – also accused the school of attempting to cover up the incident, which was revealed yesterday after the victim's uncle obtained and posted two videos of the beating on Facebook. The clips quickly went viral and drew sharp online criticism.
One of the clips shows the girl, who is in fourth grade, sitting on a classroom floor while a group of older girls violently pull her hair until she cries loudly. In another one, the girls kick her and grab her neck before one puts a foot on her face.
School headmaster Nantapol Fooseekul yesterday said eight students were put on probation over the assault. He said parents from both sides had talked and agreed on a settlement.
However, the girl's parents said today that the family never told the school they agreed to settle and vowed to take legal action.
The mother, identified only as Thiwa, said her daughter complained of a headache and chest pain Sunday, but she only learned what happened after watching the footage she said was heartbreaking on Tuesday. The father said he forwarded the clips to his brother, who shared them online a day after.
Thiwa added that the school wanted to hush up the attack, which she said occurred Friday, by giving them a 4,000-baht compensation it received from attackers' families and trying to convince them to sign a settlement paper.
School bullying in Thailand often draws public attention through incidents exposed on social media, but little has been achieved to tackle the problem. The Department of Mental Health in January said about 600,000 students are bullied in schools annually. The rate is considered the world's second highest after Japan.
Phayao provincial administration said a meeting would be held today with local education officials and schools executives to discuss the problem and find long-term solutions.
Thiwa said her daughter was still easily frightened and suffered headaches and chest pains, adding that she would take her to a hospital later today before filing a complaint to police.
"We've never thought of settlement since seeing the clip where my daughter was kicked," she said. "I'll file charges against everyone involved to set an example for other young people that it's not something they should follow."