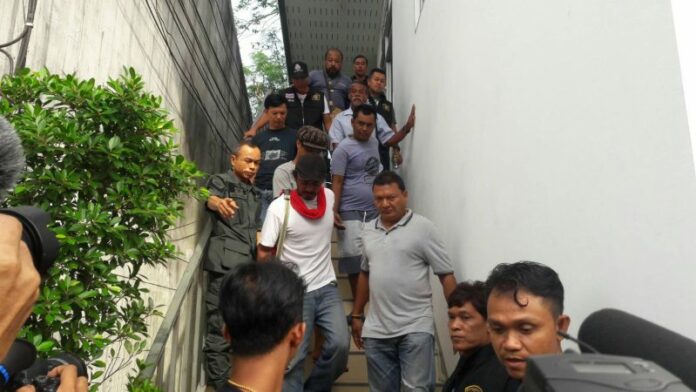 PHANG GNA — A court convicted 11 men and sentenced them to lengthy jail terms Thursday for raping a 14-year-old girl in Phang Nga province last year.
The Phang Nga provincial court said all defendants were guilty of multiple counts related to the attack on the underage girl. It said they gang-raped the victim in her home on Koh Raet 16 times between May 2016 and February 2017.
Worachit Kongbut, Chatchai Srirat, Boonpoj Nonsee, Chalerm Samin, Sucheep Sumen, Thawatchai Thaogu and Nuttawut Butnoi were sentenced to life in prison.
Worachit was accused of being the first to assault the girl before forcing her out to the beach to be raped by other men. He also filmed and took photos of the assaults to blackmail her. He and Boonpoj were accused of forcing the girl to take drugs before the men assaulted her.
Keerati Sumen was sentenced to 45 years in jail. Rangsan Chailiang got 20 years and 4 months. Sayan Sumen and Nawik Jareuk got 15 years each. All were also ordered to pay the girl and her mother 18 million baht in damages.
News about the assault broke after the mother filed charges with police last year, accusing up to 40 men in her community to have repeatedly assaulted her daughter, who was often left home alone at night while her parents went out to harvest rubber.
Community elders and relatives of the men denounced the family as liars and accused them of tainting their reputations. A protest was also held when some men were arrested.
Rochitdee Raimancha of the Muslims for Peace Foundation, which has represented the victim, said he was pleased with the ruling, and said the foundation will continue to help the girl and her mother, who have relocated to Bangkok.
An attorney for the accused, Sanphetch Thipmonthien, said they would file an appeal since he believes some of those convicted are innocent.
Related stories:
Police Arrest All 11 Suspects in Phang Nga Gang Rape Case
5 Men Held in Phang Nga Gang Rape Case
Police Seek 11 of 40 Men Accused of Raping Phang Nga Girl