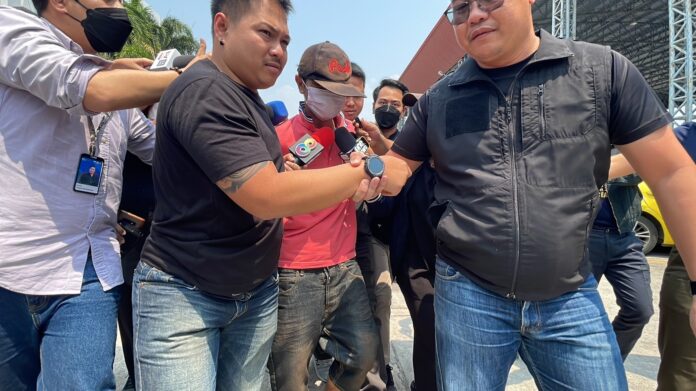 SAMUT PRAKAN  — A man accused of setting fire and stabbing his girlfriend to death was charged with homicide, police said Tuesday.
In the country's latest violence against women, Pisutsiri Chansoda, 42, was apprehended Tuesday morning for killing his girlfriend, Nathanan Joomfong, 45, near a bridge over Bang Pakong River in Chachoengsao province. He allegedly told police he was preparing to drown himself to avoid being arrested.
Nathanan stabbed the victim multiple times in a ditch inside Bangpu Industrial Estate in Samut Prakan province south of Bangkok on Monday afternoon. Deputy provincial police commander Chotiwat Leungwilai said the suspect confessed to the murder in a jealous rage after seeing the victim's chat with another man.
Witnesses said they saw the victim, wearing only a towel, getting out of a white pickup truck and running towards them for help. The suspect followed the victim with a fuel container and told the group to stay away. He then threw the contents onto the group and ignited a fire, resulting in the victim and one of the good samaritans getting burned by the flames.
The victim then jumped into a nearby ditch to put out the fire, but the suspect went back to his vehicle and returned with a knife. He stabbed the victim to death and left the scene.
A search of his vehicle found the knife believed to be used in the murder. Police believed the murder was premeditated, while the suspect told investigators the fuel container was meant to fill up his motorcycle and the knife was routinely carried in the car for self-defense. Nathanan was also charged with carrying a knife in public.
Thailand ranked among the world's worst in violence against women, according to the Social Equality Promotion Foundation. A 2021 study found more than seven women a day are abused physically or mentally, while the Department of Disease Control recorded more than 8,500 cases of violence against women each year.
The department said most women were found to have been attacked at home by male relatives, who were often intoxicated. Women aged 20-24 are the most vulnerable, accounting for 15 percent of the reported cases.