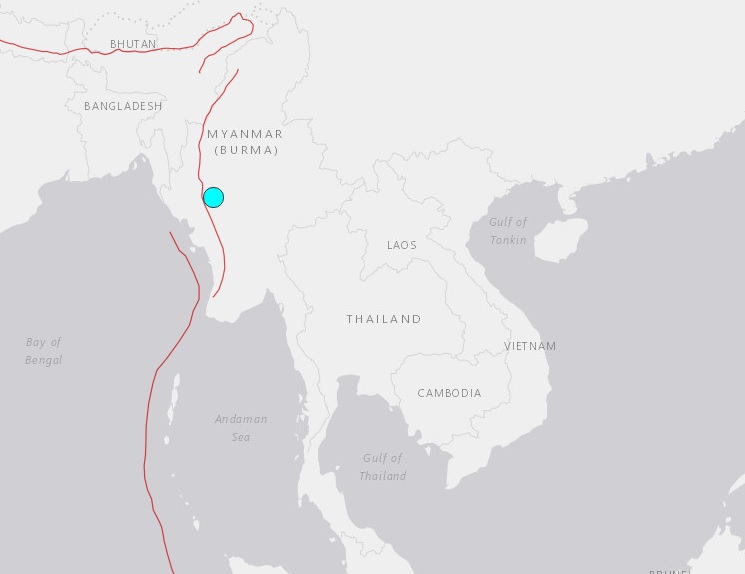 BANGKOK — People in tall buildings in Bangkok took to social media to describe their surprise at feeling tremors from a powerful quake which killed four in Myanmar at about 5:30pm on Wednesday.
The U.S. Geological Survey put the quake's magnitude at 6.8. The epicenter was approximately 25 kilometers from the north-central city of Chauk.
In Bangkok, employees at some buildings were briefly evacuated from the structure.
According to reports, the temblor was felt most strongly in downtown areas such as Sam Yan, Asoke, Sukhumvit and Ratchadapisek.
https://twitter.com/a_o_b2/status/768398722073886721
Reuters: 6.8 magnitude earthquake strikes central Myanmar. The light fittings are swaying on our 35th-floor office in Bangkok.

— Andrew RC Marshall (@Journotopia) August 24, 2016
In Myanmar, Associated Press reports the quake damaged nearly 100 ancient Buddhist pagodas in the former capital of Bagan, a major tourist site, officials said.
At least 185 brick pagodas in Bagan were damaged, the state newspaper reported. Bagan, also known as Pagan, has more than 2,200 structures including pagodas and temples constructed from the 10th to the 14th centuries. Many are in disrepair while others have been restored in recent years, aided by the U.N. cultural agency UNESCO.
Police officer Htay Win in Pakokku, about 70 kilometers (45 miles) from the epicenter, said one person there had been killed and one injured. "The person was killed by falling bricks from a building," he said.
Additional reporting: Esther Htusan, Min Kyi Thien, Associated Press