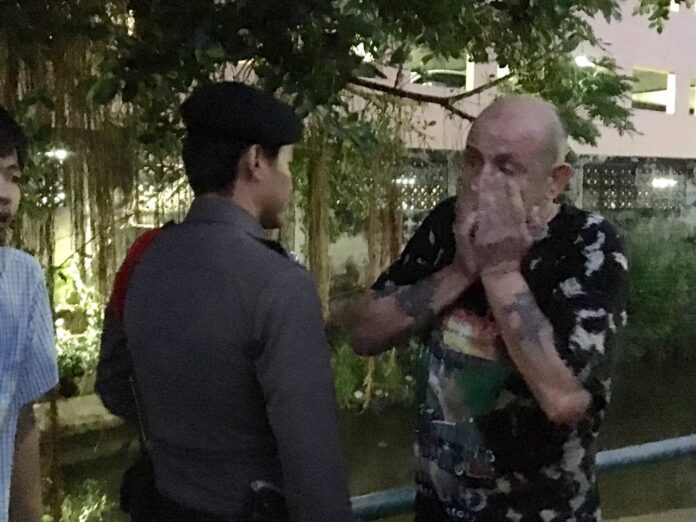 BANGKOK — Police were questioning a Briton after his companion suddenly jumped to her death from the 16th floor of a condo early Monday morning in southern Bangkok after receiving a distressing phone call.
The 22-year-old Ugandan woman's body was found alongside a khlong outside the Suksawat Modern Condo View in the Rat Burana district at about 4am. Her smashed mobile phone was found inside a pocket.
Lt. Col. Pradit Plaiduan, who was called to the scene, said that a friend of the woman, 50-year-old Briton Ashley Danniels, swam into the canal and held the body, crying. Danniels is an English teacher at Panyasak School, and was renting the room she jumped from. Khaosod English is withholding her name until her family can be notified.
According to a security guard at the building, Danniels often goes out partying late at night, bringing back black women and transexuals to his room.
"She wasn't his girlfriend," Pradit said. "But they met at a party. He was crying and hugging her really sadly."
Last night, said the guard, Danniels came back to the condo with the woman about 2am. At 4am, Danniels came running to the security guard, saying that she had jumped.
Police said they found no sign of a struggle in the room.
According to Danniels' testimony, they were in his room when she received a distressing phone call. Danniels could not tell what she was arguing about, since she spoke in a language he did not understand. Then, to Danniels' shock, she jumped out the window.
Correction: An earlier version of this story misidentified Danniels' age. He is 50, not 30.