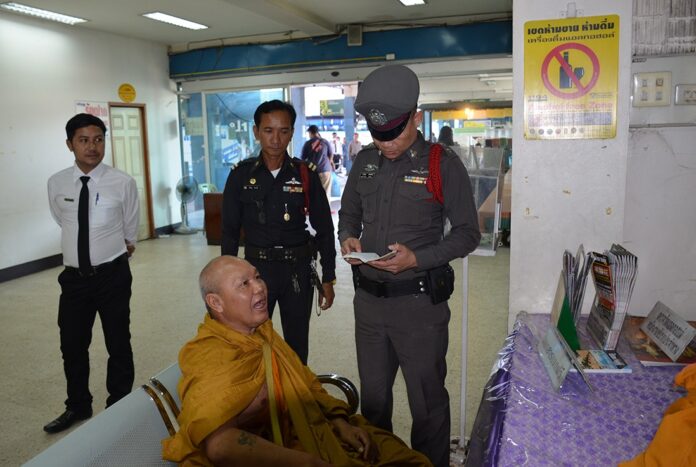 UDON THANI — A monk was disrobed Monday after he got drunk on moonshine and yelled at a number of farangs waiting at a bus station.
Ni-orn Saenmuangchin, from a forest temple in Udon Thani province, was pacing around the provincial bus terminal yelling at seated foreigners when police and military officers approached to see what was wrong.
Officers said the 51 year old reeked of alcohol as he told them his tale.
Ni-orn, a monk of four years, had returned from a Kathin ritual in Kalasin province and was waiting at the terminal for another bus to take him back home to Udon's Nong Saeng district.
To refresh himself, he bought two bottles of Phaya Naga herbal moonshine which he then promptly consumed.
When a foreign man approached the monk for directions, Ni-orn lost it in a drunken rage.
Pfc. Suksit Sriputta had been at the bus terminal when he noticed the yelling monk and detained him before calling for police backup.
"We investigated this monk, and it seems that he was often caught drinking and forced to leave the monkhood," said Lt. Theerayothin Supsin of Udon Thani city police. "He would return to the monkhood again and again after drinking. This cycle happened three to four times."
Theerayothin, who got the morning call about the monk's misbehavior, said the white men Ni-orn had been yelling at had fled the bus station by the time he got there.
Ni-orn was subsequently disrobed at a local temple.