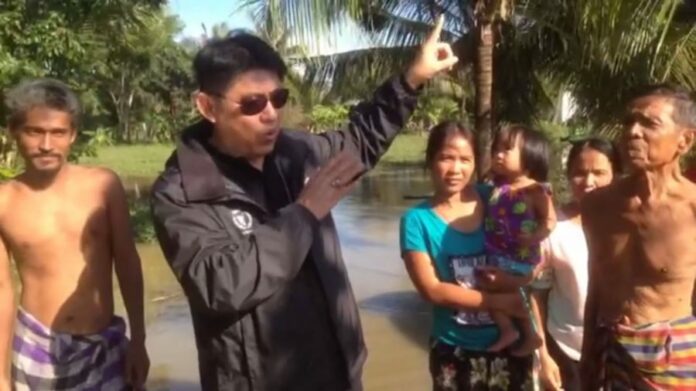 NAKHON SI THAMMARAT — Sorayuth's back.
After disappearing from the airwaves 10 months ago, convicted news anchor Sorayuth Suthassanachinda has waded, waist-deep, back to national audiences via Facebook live videos narrating the severe flooding in southern Thailand.
Since Sunday, the veteran journalist and former Channel 3 anchor has been posting field reports watched by millions, many of whom have welcomed him back warmly despite his tainted corruption.
"Since you left, I've never turned on Channel 3. Their quality really decreased, and it's not as fun," commented user May Waranpassorn on a Monday clip in which he chats with a man fishing in the floodwaters.
Read: Convicted TV Host Ends His Career Amid Pressure
That clip has been watched more than a million times and shared more than 9,000 times.
Sorayuth, who had just begun a new live stream at the time of publication, could not be reached for comment. A woman identifying herself as his secretary said he was in the field doing his thing.
His fans rejoiced when he first reported on the floods in Phetchaburi province before moving on to Nakhon Si Thammarat on Monday, Prachuap Khiri Khan on Tuesday and Surat Thani on Wednesday. In the latest posted Thursday, he hangs out with a local kanom jeen maker and chats with people about their waterlogged village.
Still it's far from the millions he drew in every day as the face of Channel 3 before being convicted of fraud in February 2016.
Sorayuth was found guilty of embezzling 138 million baht in sales of advertising airtime through a company he ran. He resisted calls to step down and only did so under pressure in March. He was sentenced to 13 years in jail but is free on bail while his case is under appeal.
None of that has dampened the affection of many who began every day with his voice making sense of things from behind his news desk.
"You really are a man of the people," user Tanaporn Wichai wrote. "You go to where the people are suffering instead of abandoning us."
Related stories:
TV Celebrity Sorayuth Gets 13 Years for Embezzling Ad Revenue