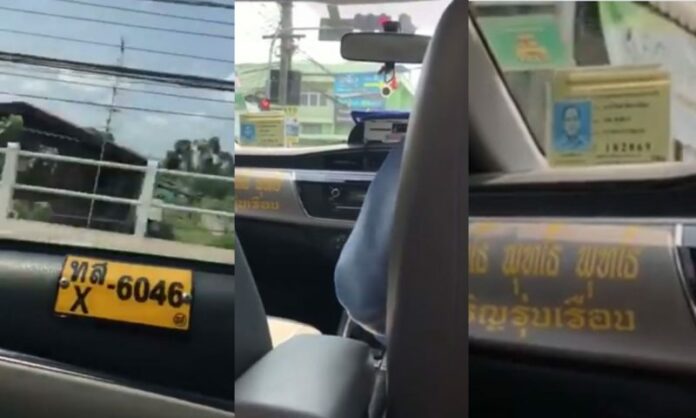 BANGKOK — A taxi driver recorded calling young female passengers "whores" and threatening to kill them was fined Tuesday and ordered to undergo three hours of etiquette training.
After police declined to take up a case against Wirat Thassanatikom based on the complaint of several students, the driver was called to report to the Land Transport Department at 9am this morning where he was fined 1,000 baht for his behavior and ordered to sit through a three-hour lecture on good manners.
The incident happened Sunday, when Kunyaphat Pitchayapukdee was in Wirat's taxi with four friends. They were passing near an intersection in the capital's western outskirts of Nong Khaem when a front-seat passenger adjusted an air conditioning vent, prompting the driver to erupt in misogynistic vitriol.
"What right do you think you have to adjust the aircon in my car? It's not your car! What school do you go to? Do they not teach manners, you uneducated, evil karee?" Kunyaphat alleges Wirat said, using the word for "whore."
That's when they began to record the driver, who then went on to make menacing threats.
"I'm a former policeman. I could bury you like that tom, don't you read the news? Or how about I don't say anything and just drag out and rape you?" he can be heard saying in the video Kunyaphat later posted to Facebook.
One of the passengers directed Wirat to let them out nearby, but that didn't stop him:
"If you're pretty but have an evil personality, no one will want you. You'll just have to be a whore. Look at you, looking all displeased when I'm talking to you. If you have any complaints, I live right here at Baan Uea Athorn."
The students went and filed a complaint Sunday with Nong Khaem police.
Maj. Nikorn Haoboon confirmed receipt of the complaint but said police took no action.
"The kids adjusted the aircon, and he spoke rudely to them, so I put it down as evidence," Nikorn said.