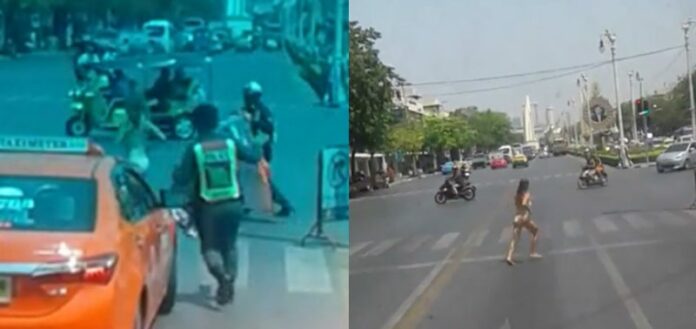 BANGKOK — Police said Wednesday they believe a French woman who ran naked through the streets near Khaosan Road was mentally ill and complained it was too hot.
Police Col. Pitak Suttikul said the 36-year-old French national, who led police on a kilometer-long chase Tuesday from the Phra Pinklao Bridge almost to the Democracy Monument, seemed unwell once they spoke to her.
Read: Police Chase Naked Foreign Woman 1K Near Khaosan Road
"She appears to suffer from symptoms of mental illness," Pitak said. "It became clear after we talked to her for a bit."
After traffic police caught up with her and covered her with a sheet near the Khok Wua junction, they said they took her to recover at an air-conditioned tourist help tent near the Sanam Luang, but she was too distressed to communicate.
After some time, police said the woman was able to identify herself, apologized for what happened and said that she ran naked because she was too hot.
"She's a danger to herself, so we decided to send her to the hospital. She's currently recuperating at Somdet Chaopraya Hospital," Pitak said, referring to a psychiatric hospital in the Khlong San district.
Pitak said the woman came to Thailand alone on March 6 and has been staying on Khaosan Road.
Bangkok is in the grip of a hot streak, with sweltering highs of 40C expected all week.
Related stories:
Hot Haze in Bangkok, Hot Hail in the North
Heartbroken Frenchman Succumbs to Madness, Despair in Prachuap