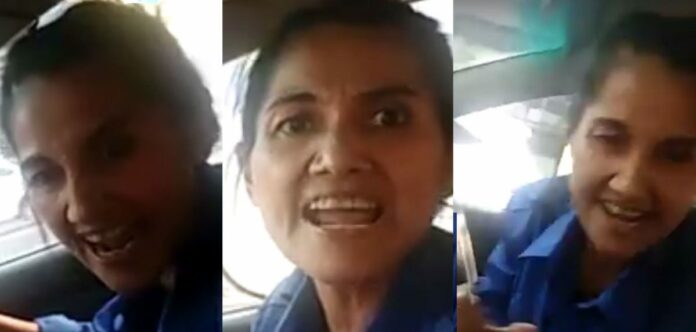 BANGKOK — A taxi driver with a record for having threatened passengers with a knife faces charges Wednesday after she was filmed raving at a family in her taxi before kicking them to the curb.
Facebook user Yaowalak Chusri was at Bangkok's Platinum Fashion Mall on Tuesday when she hailed what turned out to be the taxi ride from hell, footage of which has since spread online and prompted transport officials to search for the driver.
According to Yaowalak, she got into Pusadee Anchanphati's taxi at the mall with her mother, aunt and son on their way to Charan Sanitwong Road in west Bangkok. Yaowalak said Pusadee soon parked the car to hold a phone conversation before driving recklessly back toward the mall they had just left.
When Yaowalak asked her to go to their destination, she said Pusadee demanded money and began driving the wrong way toward the Huai Khwang district. Yaowalak said Pusadee ignored pleas and the only way to get her to stop was turning on the camera and offering her 100 baht.
"Go ahead, post it so it gets on the front page!" Pusadee screams in the footage as Yaowalak films her from the front passenger seat. "You wanna try me? Get the hell out of my car!"
Pusadee, who appears emotionally disturbed, continues screaming as she pushes Yaowalak out of the car; the woman's young son wailing in the back seat. Yaowalak alleges that she and her mother suffered scrapes upon being ejected from the taxi.
The Land Transport Department's Supree Jaruphum said Pusadee is a repeat offender with a record of hectoring her passengers, who frequently file complaints about her behavior and refusal to take them where requested.
She brandished a knife on a passenger and demanded money in 2013, for which Supree said she was only fined and allowed to continue working.
He said she will be found and charged according to law.
"She's shown that she has no fear of the law. We have already blacklisted her from driving taxis and will impose the maximum punishment for her," Supree said.
That means 9,000 baht in fines for unsafe behavior, driving with an expired license, behaving impolitely and not taking passengers to their destinations. She will also lose her taxi license, while employer Sahamit Taxi will be fined 5,000 baht for hiring a driver with an expired license.
After a Facebook page known for calling attention to issues reshared Yaowalak's video, other passengers of Pusadee stepped forward with their own horror stories.
"She took me the long way around, so I asked nicely about it. She screamed at me and drove frighteningly fast before dumping me on the side of the highway," Facebook user WJ JW wrote on the Queen of Spades page.