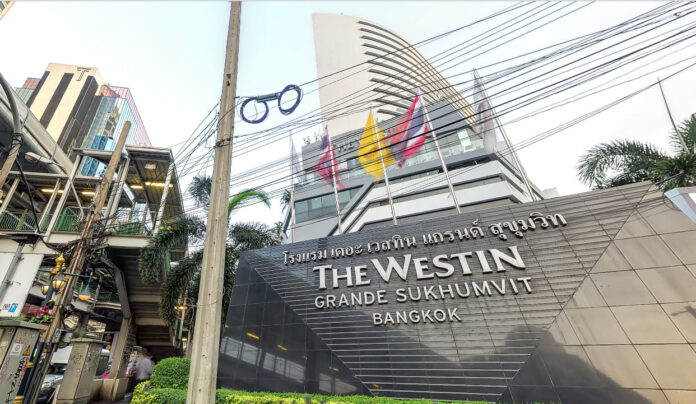 BANGKOK — A British man fell seven stories from an upscale downtown hotel Monday night in what police have ruled to be a suicide.
Rescue officials and police found the body of Andrew Frank C. Browning, 67, at about 8:30pm by the Westin Grande Sukhumvit Bangkok Hotel. A suicide note found on Browning's body cites health problems.
"We asked the hotel staff who told us that he was going out on the balcony on the seventh floor to smoke before jumping," said police Capt. Noppha Tongbo of Lumphini Police Station. "We are investigating but it's most likely a suicide."
Browning was not a guest or staying at the hotel.
Staff from the hotel's seventh-floor restaurant said Browning ordered a drink before going out to the balcony. After noticing Browning had been gone for a long time, they said they went to check and saw his body on the ground below. A chair had been placed next to the railing.
Noppha said Browning was most likely visiting his daughter, who works as a teacher at an international school in Thailand.
"She already knew about her dad since last night," he said. "We used an interpreter to communicate."
Update: This story has been updated to reflect that Browning was not a guest at the Westin Grande Sukhumvit Bangkok at the hotel's request.