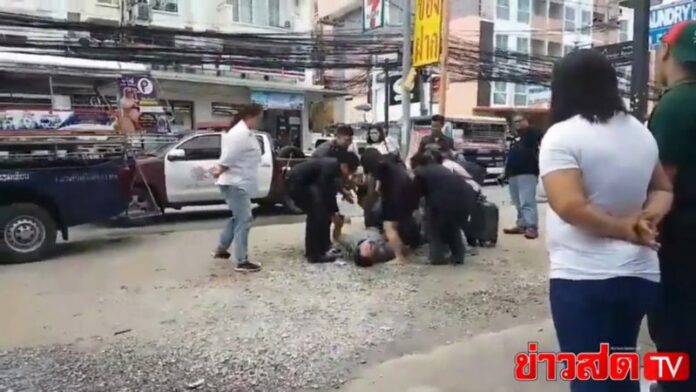 PATTAYA — An Indonesian tourist ran into a Pattaya street and put himself in harm's way Tuesday, reportedly after being given pizza instead of a Happy Meal by his mother.
Police were called to Soi Chaiyaphruek 1 in front of the Baan Suan Lalana condominium, where the traveler was bawling in the road in front of a pizza franchise because his mother bought him the wrong kind of fast food.
According to local reports, the man and his mother were part of a tour group. The mother bought pizza for the man, who had wanted to eat McDonald's instead. That's when he ran into the street and into traffic.
"He behaved exactly like he did in the video. Some news said he was Chinese, but he's actually from Indonesia," said Capt. Chawalit Suwanmanee of Pattaya police, who was at the scene.
Chawalit said police did not know the man's age.
An approaching car braked in time to avoid hitting the man, who then lay on the ground and began wailing, as seen and heard in the video. Residents called the police, who took about 20 minutes to haul the man onto the bed of a police truck for transport to a hospital for evaluation.
Online commentators debated whether the man was overly spoiled, mentally ill or both.
"I think the kid has some mental problems, from looking at his behavior. Maybe it stems from him getting his way all the time," Facebook user Chantawith Phuphaphakdee wrote.