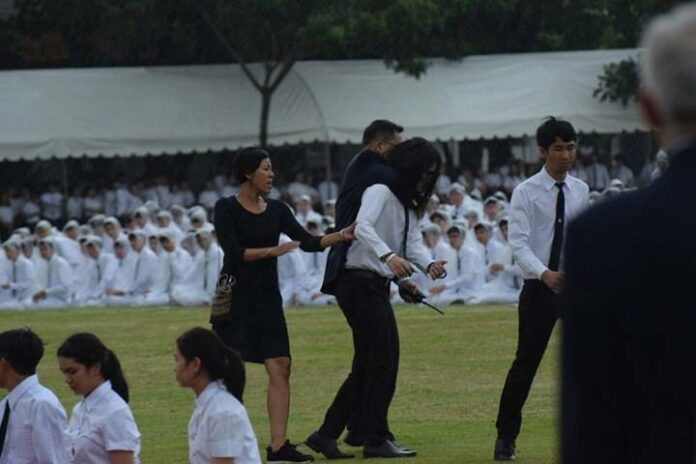 BANGKOK — Chulalongkorn University offered a muddled response over the weekend to controversy over a professor placing a student in a chokehold during a freshman initiation ceremony.
First, the university published Saturday an English-language statement blaming a student by name for the incident and claiming he was taken to a police station. It was deleted the following day and replaced with an apology citing an "inaccurate translation."
By Monday, the school had recalibrated to say it is unclear who was in the wrong when a student was placed in a chokehold for not prostrating himself bodily before statues of past kings and university founders.
"Chulalongkorn will try to gather the facts as to why things happened the way they did because it is a lesson to be learned," said Bancha Chalapirom, vice president of student affairs, in an interview Monday.
Read: Chula Admin Apologizes for Student Put in Chokehold
Saturday's original statement came two days after assistant professor Ruengwit Bunjongrat grabbed 21-year-old Supalak Damrongjit by the neck as the latter tried to leave a ceremony in which all incoming freshmen prostrate themselves before the statues.
Ruengwit was subsequently hospitalized for "stress." Supalak filed a police complaint.
It wasn't Supalak blamed in the university's original statement, but rather sophomore and student council president Netiwit Chotiphatphaisal. Netiwit famously declined to prostrate himself in last year's ritual, saying the practice was specifically banned by King Rama V, whose statue the students are asked to graab before.
"The university believes there are different groups with negative intentions, one led by the president of the student council, Nethivit [sic] Chotphanphaisan, who made this incident appear well out of proportion," said the original English statement, which remains accessible by cache. "For this Nethivit [sic] was taken to the police station after which two assistants to the president went to check on his treatment."
Bancha Chalapirom said Monday that statement was deleted due to inaccuracies. Speaking four days after the incident was captured on video, Bancha said no conclusion has been reached on who was to blame. He said a committee would be formed to investigate the matter. Should Ruengwit, a botany instructor, be found to have acted inappropriately, then Bancha said he would be made to apologize and face possible discipline.
Netiwit responded Monday saying it's unacceptable that Ruengwit has yet to apologize to Supalak, himself and other student leaders. The progressive student leader said he was disappointed the university had accused him of provoking the heavy-handed response in its now-deleted statement.
"Bancha told me on the phone that he was offering an apology [on Ruengwit's behalf], but I can't accept it," he said. "If that lecturer was a 12-year-old boy, it would have been okay to apologize on his behalf. But he was wrong and ought to apologize himself."
In the original footage, a voice identified as Ruengwit's is heard shouting obscenities about Netiwit before he grabs Supalak by the neck. A longer version released by Voice TV last night showed Ruengwit escorted off the field by two women who appear to be university staff as try to calm him down.
Ruengwit could not be reached for comment. A cell phone number provided by the school had been disconnected.

Voice TV report with footage of the incident posted Sunday night.
Bancha insisted the original statement, which was based on an interview with him, was removed due to its inaccuracies. He said it wrongly stated that he escorted Netiwit to a local police station to press charges against the student, which was not the case.
Netwit said there was definitely no "escorting" of Supalak away, as the student, a deputy student council leader, was head-locked and dragged away by Ruengwit after leaving the lawn before other students.
"That was not escorting. It was physical assault," Netiwit said. He said he was not detained and only traveled to the police station to accompany Supalak as he lodged a police complaint.
"It also said that we had malicious intentions. How do they know?" he said. "This is one-sided info on top of translation mistakes."
The original statement described Ruengwit as "someone who loves students" who "had to be taken to a hospital emergency room for treatment."
"He was later admitted to the CCU after a physician diagnosed that he was suffering from hyperventilation and muscle contractions muscles [sic] and a high pulse. This could have caused the lecturer to overreact as he is someone who loves students and been deeply involved in student activities for a long time."
Netiwit acknowledges that he and six student council peers were deliberately making a symbolic statement Thursday by bowing to the statues of university founder Rama VI and his father, King Chulalongkorn.
Most freshmen got down and prostrated themselves as has become the norm since the ritual began in the 1990s. Netiwit has argued such displays are out of sync with times, as crawling prostration was abolished by King Chulalongkorn himself a century ago.
The 20-year-old student leader said it was a conscious decision to demonstrate alternative forms of paying respects, but they waited until the end of the ceremony. He stressed that it must be done in front of the freshmen, so they didn't wait until other students had left.
"I believe the university should be able to accept this. It was a symbolic act," Netiwit said, adding that what happened to Supalak was was "uncivilized."
"I walked away very quickly," Netiwit said. Supalak was the last to step forward in their group and ended up being placed in the headlock by Ruengwit.
In videos of the incident, Ruengwit can be heard calling Supalak "a motherfucking kid" and demanding to know Netiwit's whereabouts.
Bancha said that although some people have described what happened as a "setup" by Netiwit and his peers, he has yet to see any evidence.
"These are my students, we talk with each other," he said.
While Bancha promised the committee to review the matter would reveal its findings to the public, Netiwit said it should include a student representative and human-rights advocate among its members to ensure fairness.
Related stories:
Chula Professors Tackle Student Trying to Leave Initiation (Video)