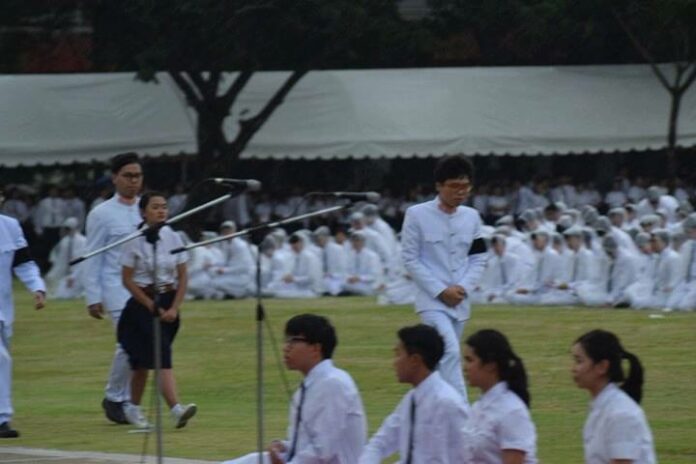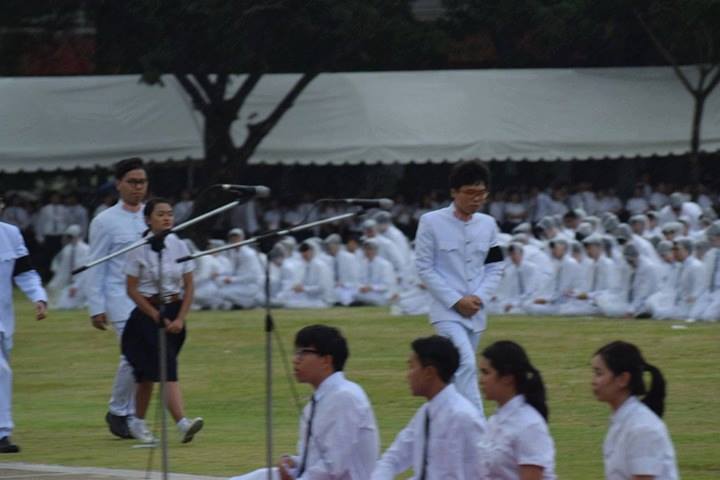 BANGKOK — Chulalongkorn University is investigating the student activist it earlier blamed for an altercation during freshman induction in which a professor put a student in a headlock.
A week after the event was marred by a professor's rough handling of his schoolmate, student council president Netiwit Chotiphatphaisal wrote online that he has been accused of violating two university regulations.
The first alleged offense – that he intentionally performed an inappropriate act – stems from the scandal that began Aug. 3, when Netiwit and his friends walked out of the ceremony in which incoming freshmen pays respects, pledge oaths and go down on their knees before two statues of past kings.
Read: Chula Professors Tackle Student Trying to Leave Initiation (Video)
Netiwit famously cited one of those past king's explicit ban of the practice when he refused to grovel one year ago. This year, a professor became enraged and placed a 21-year-old student in Netiwit's group in a headlock after they only bowed to the statues.
Netiwit said he's also being investigated for "hosting a meeting on government property without permission" for an unrelated incident the day before. On Aug. 2, he attempted to hold a public hearing for unhappy vendors who rent shops in Suanluang Square, a complex of commercial buildings built and rented out by Chulalongkorn University.
The university's vice president of student affairs, who also presided over the initiation ceremony, ordered the hearing canceled. The student council, which Netiwit was elected to lead earlier this year, said it would go ahead and hold an informal discussion that day.
"He still held it anyway. There are people from outside of the university came in for a talk," said the vice president, Bancha Chalapirom.
Bancha, who signed the notice informing Netiwit of his rights at the outset of the investigation, said Friday that the decision to probe the 20 year old came from a student discipline committee.
Bancha said it was a safety issue because outsiders would be let into the university buildings.
"Usually, notification is needed," he said. "We have to understand this is not a public space."
The university on Thursday said a committee had been appointed to review the actions of botany instructor Reungwit Bunjongrat, the teacher who grabbed 21-year-old Supalak Damrongjit by the neck in an incident captured on film.
He will be investigated for possible ethical violations.
Bancha has previously apologized for the instructor's actions Reungwit has remained silent since the incident; the school said he was hospitalized for stress after the incident.
It's a politically charged incident on the campus, which is a bastion of Thailand's conservative elite. Although kneeling to the statues is a relatively new introduction, ultra-royalists have said the entire thing was an act of provocation by Netiwit and his peers.
This past Saturday, the university published a statement blaming Netiwit and incorrectly asserting he was arrested on the spot. The statement was taken down and replaced with an apology for the "incorrect translation."
If found guilty, Netiwit could be deducted university points for behavior or placed on probation depending on the university's judgement. Enough deducted behavior points can result in suspension or even expulsion.
Netiwit on Thursday said he was undeterred.
"I am glad that I get to hear the problems of local residents around Chula, even though I am now in trouble," he wrote on his Facebook account. "There are so many people having trouble in society. We, as Chula students, have a lot of privilege. We need to serve society even more than others do."
Related stories:
Chula Retracts Statement Sliming Student, Yet Bad Taste Lingers
Chula Professors Tackle Student Trying to Leave Initiation (Video)