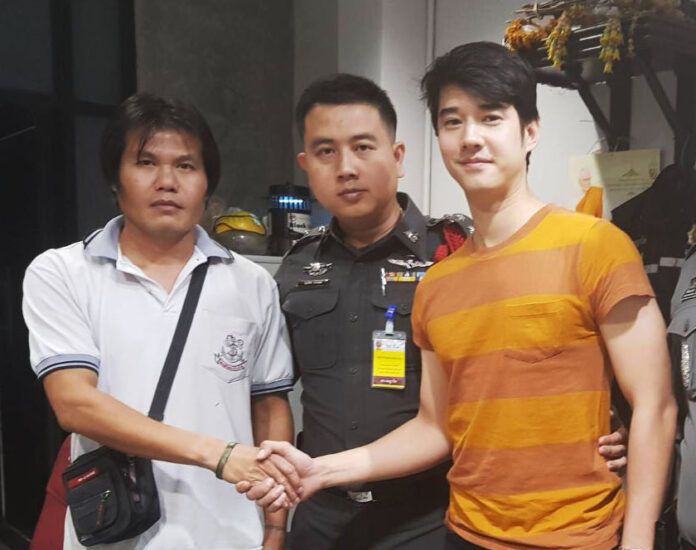 BANGKOK — When a hot young movie star cut off Udon Sutthison on Monday night in Bangkok, the taxi driver reached for his trusty slingshot. He scored a direct hit, shattering the driver's side window.
For his marksmanship, Udon, 37 of Roi Et province, lost his license for a month Tuesday after being spared a harsher penalty by Mario Maurer, who decided not to press charges against him for the damage done to his black Carrera 2.
"I did wrong. I take responsibility and I want to apologize to all taxi drivers. I acted on emotion in the spur of the moment. I won't do it again; I'm saying this from my heart!" Udon said with a wai today at Bangkok's Phaya Thai Police Station.
Under the law, causing a disturbance on the road can cost driving privileges for up to a year. But the Land Transport Department opted only to revoke Udon's license for a month and order him to attend a three-hours seminar on sportsmanlike driving.
Udon said he was driving Monday on Rama VI Road when Mario cut in front of him at the Uruphong Intersection. Udon then rolled down his window and yelled at the porsche. The two continued driving and cutting each other off until they became stuck in traffic at the Pratunam Intersection.
That's when Udon then opened fire on Mario's window.
Mario then pulled over on Ratchaprarop Road and, with someone filming the encounter, offered the following measured response to Udon's road rage:
"People can can get emotional but shouldn't harm each other. If one of those glass pieces went in my eye and I went blind, how would you make up for that?"
Local police then took both men in.
Mario, a ubiquitous face on screens big and small, is a German-Thai model and actor known for starring in "The Love of Siam," "First Love" and 2013's "Pee Mak." He's appeared in numerous soaps and advertising campaigns and recently voiced Thai Jon Snow for the most recent season of HBO's "Game of Thrones."