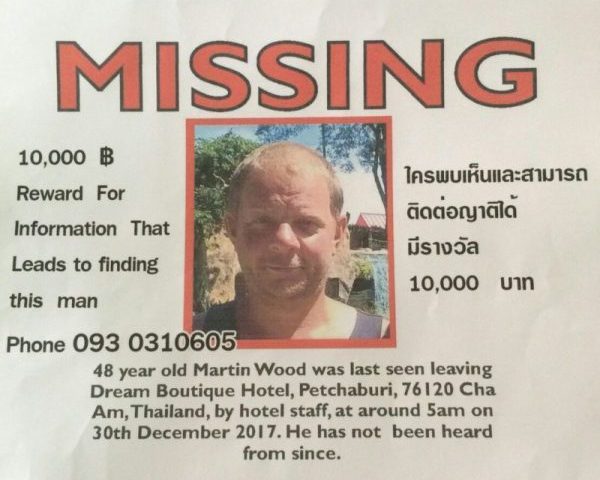 PHETCHABURI — Police are awaiting the autopsy results of a British man found in the forest by Cha-am Beach on Wednesday, weeks after he went missing.
Martin Wood, 48, was found dead 300 meters inland from the gulf in Phetchaburi province, not far from where he was staying with his family when he disappeared Dec. 30.
"We're still waiting on the autopsy results, so we don't know whether he commited suicide or not," Lt. Capt. Asawapitch Chaisri of Cha-am police said, adding that Wood had been dead for about 18 days. Police found 2,490 baht on his body.
Members of Wood's family, who are in Phetchaburi looking for him, could not be reached for comment.
Wood was last seen leaving the Dream Boutiques Hotel in Cha-am at about 5am on Dec. 30. Asawapitch said Wood's relatives hired locals and asked police to help locate Wood.
Daoroong Inpotha, 40, a housemaid at the hotel, said the body found today was indeed Wood, saying that the shorts and T-shirt at the scene matched what she last saw Wood wearing.
According to police investigators, Wood had been a frequent visitor at the hotel for four years. For his latest trip, Wood booked a month-long stay there with his family. He had checked in three weeks prior to his disappearance.
Wood's family offered a 10,000 baht reward after he went missing.
Hotel staff told police that Wood had medical problems and was believed to be alcoholic.