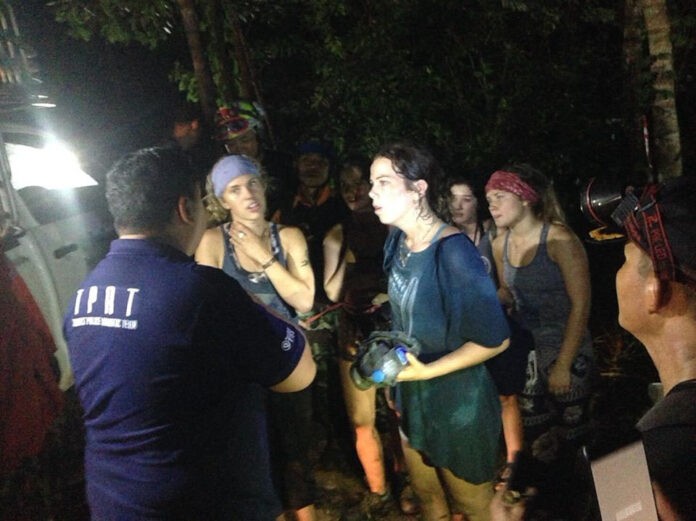 CHIANG MAI — A dozen American exchange students were rescued late Wednesday night after they became lost in a national park.
Rescue personnel located the 11 hikers after they became lost near the Tak Mork Falls in Doi Suthep-Pui National Park for most of the day.
"They went out to north of the waterfall, which is extremely dangerous. During the rainy season, it's prohibited to go into the area. We have signs everywhere. But they went up there another way and couldn't get down," one of the rescuers said in an online video.
The students went into the jungle at about 2pm. Five hours later, when their disappearance was reported, a search was launched at 7pm. The area the Americans had wandered into near the Nok Kok Cliff is known for dangerous and difficult terrain, including a 100-meter drop.
Search and rescue personnel parked 4 kilometers into the forest and made their way on foot to where the students were 800 meters further in, yelling at them to remain in place so as to not fall off the cliff.
"Easy no problem!" a rescuer says in the video after finding the students. "Follow me!"
The 11 students, 10 women and one man, attend Chiang Mai University. They had parked their truck by the base of a Buddha statue at Huai Tueng Thao Lake. Then they circled around a helipad used for fire suppression before getting lost.
"Is there a trail?" one of the women asks in the video.
The students cried with happiness and thanked their rescuers with wais of gratitude.