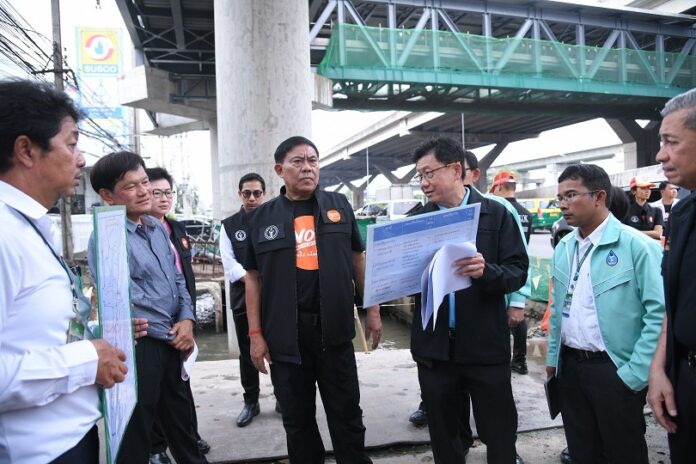 BANGKOK — Parts of northern Bangkok were left flooded for several hours because city staff couldn't find the key to a waterpump, Bangkok Governor Aswin Kwanmuang said Tuesday.
Aswin blamed the confusion on private contractors who failed to give City Hall the key. In a Wednesday news conference, he also outlined more plans to build more waterways and combat flood in the metropolitan area.
"I have instructed relevant officials to make spare sets of keys," the governor said. "This kind of problem shouldn't have happened."
Because the water pump didn't work, major roads and intersections in Chatuchak and Bang Khen districts were briefly inundated Monday.
Anticipating more heavy rains in the last leg of the monsoon season, Aswin said he has ordered 14 water pump stations in northern Bangkok to increase their capacity.
He said he has also approved a plan to build more ditches and tunnels to connect flood canals along the Vibhavadi-Rangsit Road, where a new elevated railway is being constructed. The project will take about a year to complete, Aswin said.
น้ำท่วมสระก็มีเครื่องสูบน้ำ แต่ติดสระไม่มี "กุญแจ" ก็ออกไปไหนไม่ได้! พบกับ "เคน ธีรเดช" ใน #ThePool #นรก6เมตร วันนี้ที่ เมเจอร์ ซีนีเพล็กซ์#ThePoolนรก6เมตร

โพสต์โดย Major Group เมื่อ วันอังคารที่ 2 ตุลาคม 2018
"No escape without the key," a promotional image for a Thai horror film mocks the news.