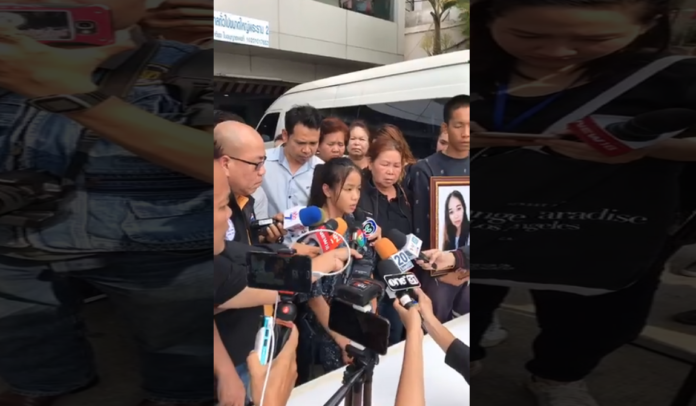 BANGKOK — A justice advocacy group on Sunday morning placed the lifeless body of a woman in front of the hospital that refused her treatment after her husband assaulted her with acid.
Saturday at about 5am, a woman identified as Chorladda took a taxi to hospital with her 12-year-old daughter after her husband splashed her face with acid in a jealous rage. They allegedly tried to go to Bangmod Hospital, but the taxi rushed them to Praram 2 Hospital given the mother's bad condition.
But the hospital allegedly refused her treatment on grounds that it had no staff at 5am, and told them to go to Bangmod Hospital. The daughter said she got on her knees and begged a nurse to admit them, but the nurse just handed her 40 baht for a taxi.
Update: Hospital That Refused Acid-Burned Woman Denies it Was Emergency
"The skin on my mother's face was hanging and falling off. My mom said to the nurse she couldn't stand it anymore," the 12-year-old daughter said Sunday by Facebook live. "I couldn't do anything."
With no other choice, they got back on the taxi. The mother died on the way with her daughter next to her.
The Help Crime Victim Club Facebook page, which acts as a watchdog to help investigate crimes, has taken up the family's case and will be filing criminal charges against Rama II Hospital. Sunday morning, they placed Chorladda's coffin in front of the hospital in protest and demanded an answer from the hospital, which has not issued a response yet.
"The nurse saw that the mother could not go on, but they still chased her away. This is completely devoid of human sentiment and morality," Atchariya Reungrattanapong, who runs the Help Crime Victim Club said Sunday.
Atchariya also said this isn't the first case of patient being refused treatment at Praram 2 Hospital.
"This is a slaughterhouse, not a hospital," Atchariya said. "Praram 2 Hospital has done this many times. But they have connections in the government so everyone is too afraid of them."
Atchariya said an arrest warrant had been issued for Chorladda's husband, who allegedly splashed her with acid.