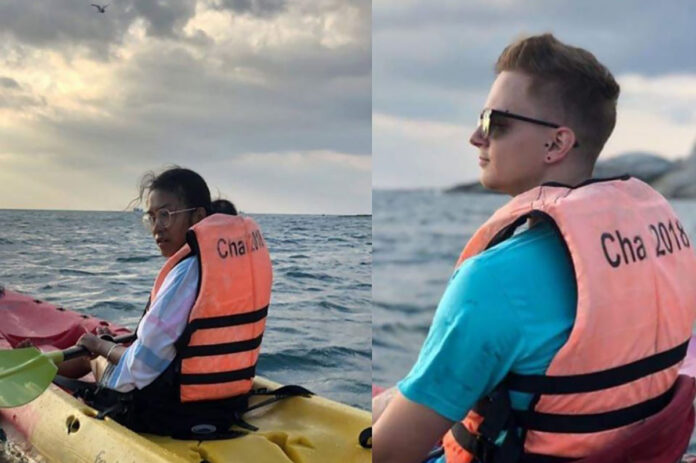 PHUKET — The families of a Polish man and Thai women who disappeared almost three weeks ago at sea in the south said they still have hope for their safe return.
Almost two weeks after search efforts for Polish tourist Mateusz Juszkiewicz, 27, and Werakan Siriprakon, 23, ceased, officials on Wednesday said that reports from locals about a foreign man and Thai woman camping in the area also turned out to be somebody else.
Juszkiewicz and Werakan went missing while kayaking off Yanui Beach on Phuket island on Dec. 7.
Werakan's mother, Chudarasa Siriprakorn, said by phone Thursday. "I think we haven't found either their bodies or boat yet, because they must still be alive."
Juszkiewicz and his friend Werakan had gone out kayaking around 4:40pm at Yanui Beach with six other friends in three other boats, but Werakan's boat did not return.
"My daughter would be trying her hardest to get back home. She had plans to go overseas in February," Chudarasa, 46, said. "The man also had travel plans."
Chudarasa, 46, also dismissed speculation on social media that they might have eloped, because they weren't in a romantic relationship.
"Perhaps they are stuck or detained somewhere, and they cannot communicate with us," she said.
Mateusz's sister Monika Juszkiewicz and other family members were on Phuket and searching for him, aided by a Polish private detective. Monika said "every specialist is saying something different."
"I do not know what to do," Monika Juszkiewicz said by message on Thursday. "The worst is the powerlessness that will make us wait and think."
Monika said their detective will try to do a search via satellite next.
Both families have put out a reward for assistance: 5,000 baht for clues that lead to tracking down the couple, 20,000 baht for confirmed sightings, and 50,000 baht for securing their safe return.
Anongkan "Nok" Srisuphat, the landlady and close friend of Werakan, said that search efforts by officials concluded since Dec. 12. Since then, the families have been searching by themselves on foot and by boat, relying on tips sent in.
The Juszkiewicz family are also offering an additional reward of EUR5,000 (about 168,000 baht) for anyone who finds the couple safe. Those with helpful information are advised to contact Khun Chudarasa at 085-654-2969, or Khun Nok at 064-341-9847.