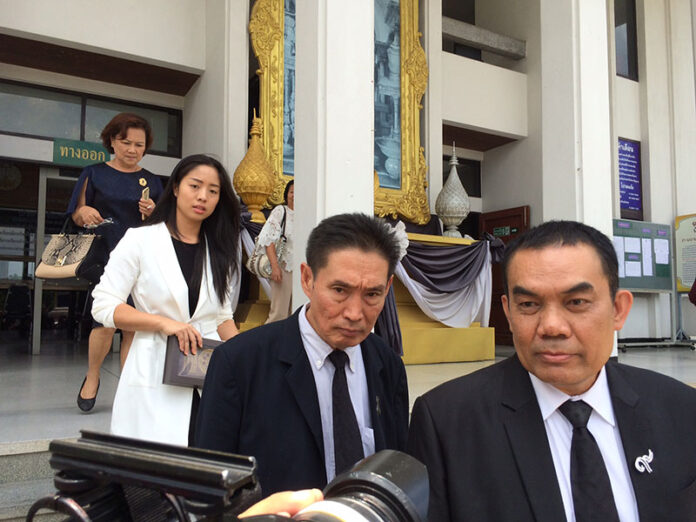 AYUTTHAYA — Having settled a dispute over compensation for the death of their daughter, a family of one of two graduate students killed by fatal crash suspect Jenphop Viraporn said Tuesday they are ready to see justice done.
Jenphop, the 39-year-old scion of a luxury car dealership, was due to give his testimony today in an Ayutthaya court about the events that led to him crashing his Mercedes-Benz into another vehicle in March 2016, killing graduate students Krissana Thaworn and Thantaphat Horsaengchai.
Prolonged negotiations between Jenphop and Thantaphat's family only ended this afternoon, forcing the court to reschedule what was to be the last day of the trial for May 19. The sister of Thantaphat said the sum – said to be in the millions of baht – would not change her family's resolve in pursuing justice.
"We will fight to the utmost, because this is about upholding the law," Kanchana Horsaengchai said after the session was adjourned.
Read: Testimony Postponed Over Payout, Jenphop Opens up Outside Court
Families of both victims would not disclose the sum offered by Jenphop, but a source close to the matter said Krissana's family will receive 8 million baht, while Thanaphat's will get 9 million. The former initially asked for 19 million baht and the latter asked for 110 million baht, said the source, who requested anonymity because it involved sensitive deliberations.
An attorney representing Thantaphat's family said the compensation had to be settled in order to move the case forward quickly, and it will not affect the criminal prosecution. The lawyer, Wichien Chubthaisong, said he will ask prosecutors to seek the maximum punishment for Jenphop in his closing statements.
Wichien added that part of the compensation will be used to set up foundations in memory of Thantaphat to promote Buddhism and road safety.
For the March 2016 crash, Jenphop is being tried on seven charges, including driving under the influence and fatal reckless driving. If convicted, he faces up to 10 years in prison. The DUI charge was automatically filed against him because he refused a sobriety test. The defendant confessed to speeding and reckless driving but disputed the other counts.
Jenphop did not speak to reporters about the case, but his family friend said the defendant felt remorseful and tried to remedy what happened.
"He's willing to take responsibility. He entered the process, instead of fleeing like some famous cases," said Charoen Yodkaewlah, who also served as Jenphop's lawyer for several months.
Local police did not immediately charge Jenphop for the crash. He was not only permitted to leave the crime scene and go to hospital with his family, but also allowed to forego mandatory sobriety testing.
After video of the crash, which showed Jenphop's Mercedes-Benz slamming into the back of the Ford at tremendous speed, surfaced on social media, it ignited public outrage and prompted action from the police.
Kanchana, the sister of Thantaphat, said she hopes that justice in Jenphop's case will set an example that no one is above the law in Thailand, regardless of their wealth or status.
"His reckless driving had consequences that affected so many lives," she said.
Related stories: 
Eyewitnesses Describe Fatal Crash at Opening of Jenphop Trial
Fresh Charge Against Jenphop as Model Student Victims Laid to Rest
Jenphop Faces Fresh Lawsuit Over Fatal Crash