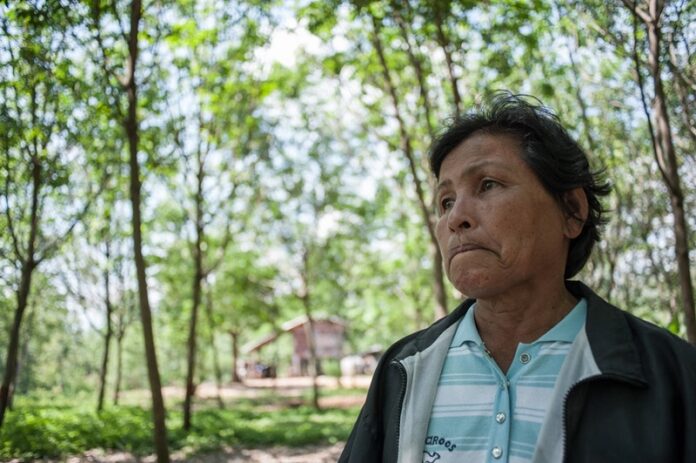 CHAIYAPHUM — A land-rights activist believed to have been forcibly disappeared over a year ago and the wife who has campaigned to learn what happened to him were both sentenced by the Supreme Court on Thursday to six months in jail.
The court upheld a lower-court decision to sentence Suphab Khamlae, 67, and her husband Den Khamlae, who has been missing since April 2016, for trespassing on protected land six years ago.
Suphab, who has campaigned about forced disappearances since Den's disappearance, will immediately go to prison.
"We are all now giving her support," said Thanomsak Rawadchai, her lawyer. "She will be sent to the Phu Khiao Prison in Chaiyaphum province this evening."
Den became a prominent activist in 1985 after his Chaiyaphum farmland was taken by the government. They were promised land to use elsewhere, but Den and his neighbors later found the area designated for them was already occupied.
Since that time, Den led the local residents via the Essan Land Reform Network to fight their eviction and regain the land.
In 2011, Den and Suphab were charged with trespassing in the contested forest for working some land there, despite a 2010 cabinet resolution that gave them permission. The court ruled that resolution was not legally binding, according to Thanomsak.
The issue became more contentious under the military government, which made reclaiming public spaces a core policy. In 2014, authorities ordered Den and his neighbors to leave.
On April 16, 2016, Den, then 65, went out in the jungle to look for bamboo shoots and never came back.
Suphab has campaigned to call attention to his disappearance ever since. She believes evidence in the case proves her husband was murdered.
In March, evidence including a human skull was found that might have been linked to Den's disappearance. Thanomsak, the lawyer, said the Central Institute of Forensic Science would not confirm the skull came from Den, saying only that it belonged to someone related to his sister.
In the court's reasoning, Den could be convicted until it could be proven he was dead, Thanomsak said.
Related stories: