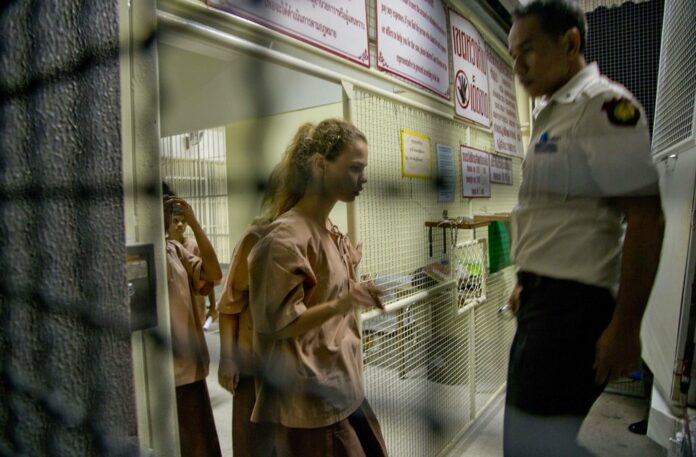 PATTAYA — A Russian sex guru and his followers, one of whom claims to have evidence of Moscow's interference in the 2016 U.S. presidential election, were acquitted by a court in Thailand on Tuesday on charges of violating labor laws but still face more serious charges which could land them in prison for more than 10 years.
Their appearance in a court in the resort town of Pattaya came after being held virtually incommunicado for several weeks in an immigration jail.
The group's leader, Alexander Kirillov, and the woman making the election claims, Anastasia Vashukevich, and a half dozen other people were taken from Bangkok to Pattaya, where they were arrested Feb. 25 while holding a sex training course.
Unashamed sexual activity is business as usual for Pattaya, which is notorious for its sordid nightlife, but the allegations by Vashukevich, who uses the name Nastya Rybka on her racy social media postings, have drawn worldwide attention.
She says she provided "escort" services to Oleg Deripaska, a Russian oligarch close to President Vladimir Putin, and claims to have audio recordings of him that provide evidence of meddling in the U.S. polls.
Charges of working without proper permits were dropped Tuesday due to technicalities involving implementation of new regulations governing work permits for foreigners, said a lawyer who represented the defendants and was present at the court hearing. He spoke to reporters on condition that he not be identified by name.
Court officials were unavailable to confirm his account. The hearing was closed to the media.
Foreigners found working without a work permit can face fines of up to 100,000 baht ($3,200) and imprisonment for up to five years.
The lawyer said the dropped charges were minor compared to newer charges lodged against the group. It is unclear when they will be tried on the newer charges.
Police last week added additional charges of soliciting to provide sexual services, which carries a maximum prison term of 10 years, and conspiracy to solicit, with penalties of up to seven years.
Kirillov, also known as Alex Lesley, and Vashukevich managed to smuggle out a letter after they were arrested which was delivered by a friend to the U.S. Embassy in Bangkok, asking for asylum and saying they had important information about the U.S. election.
They also said they feared for their personal safety, especially if deported to Russia. Vashukevich repeated her claims in comments to reporters before Thai authorities cut off media access to her in the immigration detention center in Bangkok where the group is being held.
The two were able to briefly shout back answers to reporters' questions as they arrived Tuesday at the court in Pattaya.
Asked what he wished to tell the U.S., Kirillov responded in English: "Help us. Help us any way because we don't know what is happening."
Vashukevich, who has complained about the legal process, made reference to the latest charges. "Because they close first case and open new one. For nothing. No evidence. Nothing," she said in English.
The group was arrested during one of its fully clothed "lessons" in a hotel meeting room which was attended by about 40 Russian tourists, many wearing T-shirts saying "Sex animator" in English with an arrow pointing to the wearer's crotch.
Vashukevich, who carries a passport from Belarus, became the center of a public scandal in early February when Russian opposition leader Alexei Navalny published an investigation drawing on her social media posts suggesting corrupt links between billionaire Deripaska and a top Kremlin official, Deputy Prime Minister Sergei Prikhodko.
The report featured video from Deripaska's yacht in 2016, when Vashukevich claims she was having an affair with him and allegedly recorded him talking about Russian interference in U.S. politics.
Deripaska has been linked to Paul Manafort, the former Trump campaign manager who has been indicted on money laundering charges in special counsel Robert Mueller's investigation into Russian meddling in the 2016 U.S. election.
Story: Kaweewit Kaewjinda