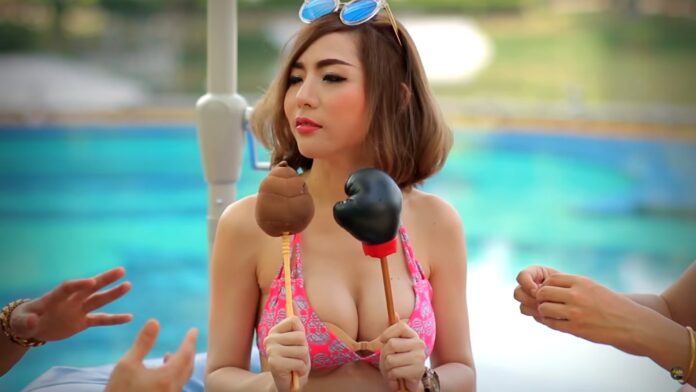 BANGKOK — A woman caught having sex with another's boyfriend and subsequently humiliated in a now-viral video has filed a criminal charge over the matter.
Saranya Sae-han, 24, asked police Monday to prosecute Viraluk Sutthiprapa, 24, for filming her as she was physically ejected from the condominium Viraluk shared with her now-former boyfriend.
In her complaint, Saranya accused Viraluk of spreading the video on social media to shame her, and asked police to prosecute her under the Computer Crime Act's provisions on defamation and indecency. She did not speak publicly at Huai Khwang Police station but later posted a message online.
"Thank you for all of your support," Saranya wrote in a public Facebook message. "My family, friends, professors, media, police, everyone. I thank you for all the support you gave me. It's so precious to a person who never thought she would see this much support."
The video of the incident, which reportedly took place in the early hours of July 31, surfaced on social media last week. It shows Saranya weeping in apparent terror as Viraluk harangues her out of the room unclothed. Her clothes and phone are then thrown out after her.
Many online directed their condemnation not at Saranya, but at Viraluk for not holding her boyfriend responsible.
"I'm not taking anyone's side in this matter," wrote Facebook user Arthit Anannab. "But I've seen so many incidents, when they involve men who have mistresses, the wives only punish the mistresses but do nothing to their husbands. This is horrible. Why didn't she kick the guy?"
Both women work as promotional models called "pretties," who are hired to promote products and events.
In a television appearance Tuesday, Viraluk said she came home at about 3am on July 31 to find her unnamed boyfriend naked and in flagrante with Saranya on their sofa.
After she slapped the man for cheating on her, Viraluk told the hosts of the Pak Pong show, she chased the woman out of the door in anger and filmed the whole scene. She said wanted the footage as a reminder but denied uploading it.
"I filmed the video to remind myself why I broke up with him," she said. "I had no intention of publishing it."
She said she lost the phone, and believed someone found it and shared it on social media.
Police said they are investigating to ascertain who posted the video.