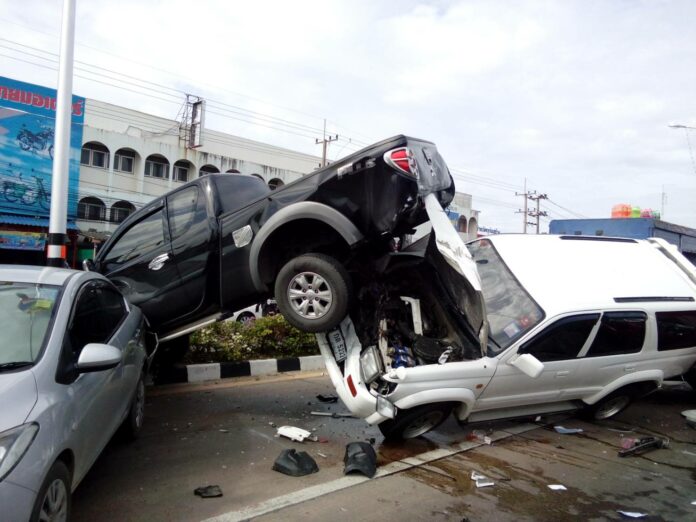 NAKHON PATHOM — The cola wars appeared to take a literal turn this morning when an Est delivery truck drove from the road a truck for soda rival Pepsi, injuring seven people in a nine vehicle pile-up.
Saroj Somboon, 50, was hauling Est down Petchkasem Road in Nakhon Pathom's Sam Phran district when he slammed into the slower-moving Pepsi truck, pushing it over the center divider. After rear-ending his soda nemesis, Saroj plowed into the back of six cars waiting at a traffic light, some of which struck vehicles in the adjacent lane.
Saroj said he was driving from Nakhon Pathom city and near his destination at the time of the crash. He told police that his brake just suddenly didn't work.
Police were weighing a charge of reckless driving against Saroj, according to Capt. Jittapat Kaew-udon of Sam Phran Police Station.
Est was launched in 2012 by a longtime, former domestic Pepsi bottler and distributor that decided to go its own with a very similar formula. It also made aggressive deals that saw the soft drink become the sole drink sold in many venues, displacing Coca-Cola and Pepsi. That damaged Pepsi's longstanding position as the market leader in Thailand, one of few countries where it was preferred over Coke.