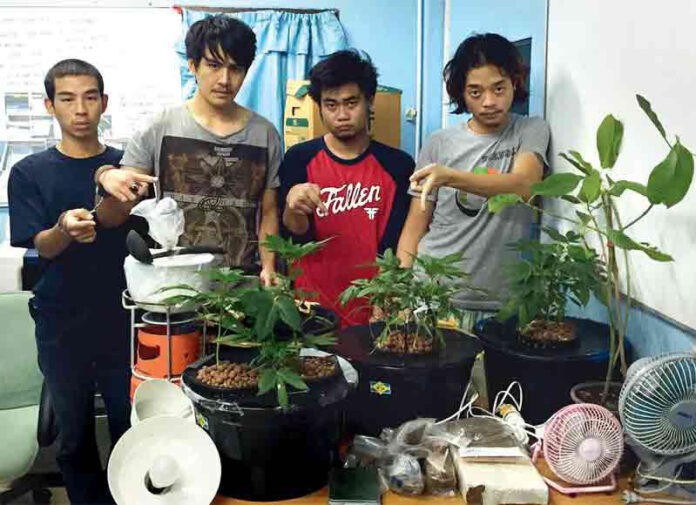 BANGKOK — The military government is urging the public to think again before buying full-spectrum grow lights and reflective mylar to wallpaper their homes with.
While recent news reports might create the impression Thailand was already going up in a purple haze of permissive drug legalization, Deputy Prime Minister Wissanu Krea-ngam soberly reminded the public Monday that no action has been taken yet.
Read: Regime Moves to Ease Drug Laws Starting With Meth, Marijuana
The response came after media reports came out Friday that the government had already acted to take marijuana off the list of Category 5 narcotics months ago in April at the request of the Food and Drug Administration.
Wissanu said the interim cabinet has yet to issue any resolution on the proposal to remove marijuana from the list of banned substances, and the idea is still being studied.
Adding further buzzkill to the 420-minded, he said there's no time frame for implementation, despite Justice Minister Gen. Paiboon Khumchaya's assertion the changes would likely roll out by year's end.
But it's not just a pipe dream. The plan promoted by Paiboon would declassify marijuana as a Category 5 narcotic, which would loosen restrictions on licensed cultivation and use for medical purposes and research.
How far the authorities are willing to go in regulating approved uses remains to be seen.
Somyot Kittimankhong, a government physician and author of "Marijuana is a Medicine that Cures Cancer," said weed poses a Catch-22 for the authorities.
"They want to show research to support amending the law, but then no one can conduct research here because it's illegal," said Somyot, a longtime advocate for marijuana decriminalization. "I think we have to amend the law first because its medical benefits are already assured by a lot of research overseas."
While curing cancer is probably a stretch, organizations such as the U.S. Food and Drug Administration, National Cancer Institute and American Cancer Society have found marijuana is helpful in treating symptoms associated with cancer. Varying degrees of legalization – from medical to recreational – have come to a growing number of U.S. states.
Somyot wants to see Thailand go even further to normalize medical marijuana.
"We should cut it from the drug list and create the new category for medical herbs," he said.