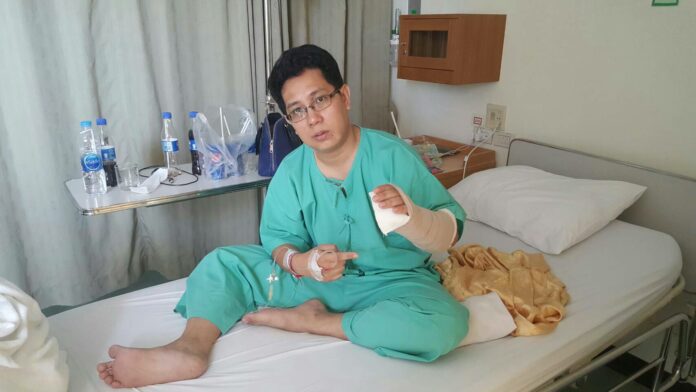 BANGKOK — Police were hunting Wednesday for an unidentified man suspected of trying to take another motorist's head with a long blade earlier this week.
In an interview from his hospital bed Tuesday, Office worker Nattawut Nuanjun said he was driving in the leftmost lane on Ekamai-Ramindra Road to meet a client at about 10am on Monday when a gray Mitsubishi cut him off. As he was changing lanes to overtake the other driver, he accidentally clipped the car.
The other vehicle didn't stop, he said, so he drove in front of it to make it stop so they could discuss the damage for insurance purposes.
Getting out of his car, 33-year-old Nattawut said that before he could get a word out, the other driver unsheathed a foot-long blade and lunged for his neck. Nattawaut said he believed the man intended to kill him.
He raised his left arm in self-defense, so the blade slashed into the arm and his cheek. He ran back to his own car, saying his assailant followed him and opened his door to challenge him.
"Are you gonna drive off or what?" Nattawut recounted him saying as he made to flee.
Nattawut was hospitalized with a slashed tendon in his arm.
His colleagues took his case to social media after they said police refused to help, writing about it Monday night on the popular We Love Police Checkpoints page on Facebook.
Nattawut said he couldn't file a complaint at the station because the hospital would not release him. His coworkers also tried to file a report at the Chokchai police station on his behalf but were told the victim had to be present.
In response to the delay, Col. Suphol Kumchoo said police were in the process of interviewing the victim in order to find his alleged attacker.
But he said calling attention to the case made solving it more difficult.
"Posting [on social media] without filing an arrest made the situation more complicated," he said.