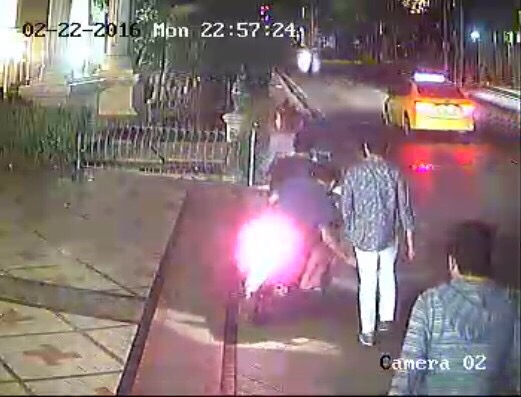 BANGKOK — Three suspected members of a pickpocket gang which targeted foreigners were arrested Thursday night in the Lat Phrao district.
Kissada "Oat" Sawasdee, 33, Panthagarn "O" Watsola, 20, and Chakrapan "Yin" Ngamwong, 20, were wanted for mugging a Japanese tourist earlier this year. Chakrapan was apprehended in Soi Lat Phrao 71, while the other two turned themselves in.
The trio allegedly injured Shinichi Kowaguchi on Feb. 22 in Soi Sukhumvit 24 when they snatched his bag.
Lat Phrao police investigators said there were six people in the gang, who worked the streets on motorcycles and frequently switched roles.
Thursday's arrest came after police raided a phone shop in the Huai Khwang district and arrested Pornthep Kitchaisophon and Uranee Chayaniwanit, who they accuse of fencing the gang's loot.
Officers seized 23 mobile phones.
The other three gang members are still on the run. Lt. Col. Jirakit Jarunapat said police have applied for arrest warrants but would not disclose their names.
"They had a whole operation running. We want to clean up the whole system!" Jirakit said.
Kissada, Panthagarn, and Chakrapan said that they had been running the pickpocketing operation and committed hundreds of thefts, sometimes injuring victims, in the Thonglor, Thung Maha Mek, Wat Prayakrai, and Lat Phrao areas.
Panthagarn and Chakrapan and the members on the lam carried out the pickpocketing, police said. They would snatch bags and dispose of travel documents and the bag itself while fleeing the scene. Police said they would then bring mobile phones to Kissada, who would sell them to Pornthep and Uranee and split the earnings with the gang.
The mobile phone shop owners have been charged with buying stolen goods, and the three gang members will be charged with running a criminal enterprise.